Find the best school for your child
---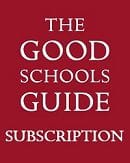 ☑ Comprehensive catchment maps for English state schools inc. year of entry.
☑ School exam results by subject and performance GCSE, Alevel or equivalent.
☑ Which schools pupils come from and go onto.
☑ Honest, opinionated and fearless independent reviews of more than 1,100+ schools.
☑ Overall school performance by GCSE, Alevel or equivalent.
☑ School data comparison by A/B weighted, relative success and popularity.
☑ Compare schools by qualities and results.
☑ Independent tutor company reviews.

- See more at: https://www.goodschoolsguide.co.uk/help-and-advice/choosing-a-school/10-ways-to-spot-a-gifted-child#tab_catchment
Find a school and get instant access to in-depth school reviews, exam data, catchment, performance measures and more
Try before you buy - The Charter School Southwark

Newsletter
Educational insight in your inbox. Sign up for our popular newsletters.