Advice
The Good Schools Guide Advice Service
Your child – nothing matters more.
What is The Good Schools Guide Advice Service? The Good Schools Guide Advice Service advises parents on everything to do with children and their education
Parents tell us:
We could live anywhere. Find us the school, then we will move.
This is our commute. The local school is not for us. What can we do?
We weren't educated here. How can we make the system work for us?
We need help with fees.
Our daughter needs exceptional pastoral care.
Our children are very bright. We want the best possible school.
Our son has special needs. Where will he be understood and supported?
We want an outstanding state school with good sports.
My daughter has been bullied. The school is not taking it seriously. Can you help?
We find solutions to these and many other questions every day.
How can we help?
Our service is a personal one-to-one service.You tell us what you want and we tell you how we can help. And then we do! Our advisors are our most experienced writers. They have visited countless schools. All are parents. You will have your own personal advisor who has the benefit of the combined experience and expertise of the entire team to draw on. All our advisors work as hard for the children of their clients as they do for their own.
Unlike education " agents" we take no fee from any school we recommend to you. Schools we find for you are based solely on what you tell us you want for your child.
Our Services
| | |
| --- | --- |
| A telephone service. | A meeting to explore options or to provide essential information. |
| For UK based families who need help with finding a school or other educational matters. | A service for families from overseas, being relocated, with more complex or urgent needs. |
| A complete service to support families coming into London from overseas or elsewhere in the UK. | A service for international families who need a total service involving everything to do with England, English regions, where to live, or more complex matters. |
| A service for families committed to educating their children in the state sector only. | A service for families with one or more children with a Special Educational Need. |
| A unique service to help families who need fee assistance if their child is to attend an independent school. | A service for education or relocation agents bringing clients into the UK educations system from overseas. |
| Many parents considering sending their children to UK schools would like them assessed – usually in English, maths and reasoning – before they start considering school applications. | A Good Schools Guide Advice Service consultancy for parents. |
| GSGI has advisors all over the world. The GSGI Advice Service is a consultancy to advise parents, one-to-one, on choosing the best schooling for your children wherever you are – or wherever you are going. | Choosing the right course at the perfect university is one of the most crucial decisions you'll ever make. Don't leave it to chance; enlist the first-class, tailor-made help of University Advice Services from The Good Schools Guide. |
NB We have expert advisors who can help you in a number of languages. Please advise us if you need to speak in your own language.
We offer a huge range of additional services. For more information see examples of how we can help.
So what should I do?
Call 0203 286 6824 or +44 203 286 6824 from overseas
or email: advice@goodschoolsguide.co.uk
What information should I include?
your contact details
your child's name and yours
his/her/their date(s) of birth
your preferred location eg west London, near an airport etc
essential information about what matters most to you eg sports, a special educational need, good academics
How Does it Work?
Our administrator will take your call or answer your email. In consultation with the Director of the service, she will allocate the advisor best qualified to assist you. You will then be put in touch with your advisor direct.
Consultations are mainly carried out over the phone. However, our advisors are always happy to meet you, if possible. Urgent enquiries are dealt with urgently. During office hours we can find an advisor to speak with you within a couple of hours if necessary.
Why are our services not free?
We'd love to help you for nothing. But our advisors are highly knowledgeable, experienced professionals who work one-to-one with you and give you the benefit of not just their own expertise but that of the whole Good Schools Guide team – along with the unique collection of data and information that is exclusive to The Good Schools Guide and which is constantly updated. We work hard for you and often give well over the odds. Our rates are extremely competitive. Click here for what parents say about our services.
The Good Schools Guide Promise
We will refund your fee if you are not entirely satisfied with the results.
All information is treated in the strictest confidence. Advisors' standard terms and conditions may be found in Terms And Conditions.
Your child – nothing matters more.
---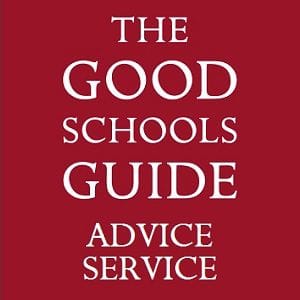 Contact Us
Phone: +44 203 286 6824 from overseas
Phone: 0203 286 6824 inside the UK
Email: advice@goodschoolsguide.co.uk
Follow Us
What parents say
We think often of how much we appreciate your help and advice. We never could have found this on our own. Dr DK
Anyway, that's the conclusion of our trip. I want to thank you very much for your kindness and professionalism. You have been very helpful, professional, active and kind. We were very impressed. Mr EM
Thrilled with grammar school place
We want to thank you for your support, assistance and cooperation throughout the appeal period for our son and a successful outcome with admission into one of Kent's best and much sought after grammar schools.
A huge thank you…
I found the session extremely useful and sent in our acceptance of the place with confidence today! I have also suggested your service to two of my friends, one of whom has a session booked today. Please pass my thanks to my advisor
Not a school we would have considered without your suggestion…
Amazingly, we have fallen under the spell of Frensham Heights ! We have visited twice, once on an open day and once more just us when we had a longer chat with the Head and spoke with more teachers. Martin
Great schools list…
Thanks so much again for your great schools list. Certainly focuses the mind seeing those options!!! Exactly what we wanted it to do. The idea is to make sure we are not missing any tricks out there.
Wonderfully insightful consultation…
Thanks for a wonderfully insightful consultation. Mrs AB
I didn't feel so alone…
You have been so attentive and helpful. The nightmare receded as soon as we started to talk. And I didn't feel so alone in it all. And you seemed to know so much about all the possible schools! Thankyou!
The school of our choice within 2 weeks…
Once again thank you for your excellent advice and very speedy response which enabled us to get our daughter into the school of our choice within 2 weeks of contacting you – quite amazing!
You have been so helpful…
You have been so helpful to us that I feel reluctant to bid you any kind of farewell. You may be sure we will be in touch if we hit any further rocks. M and R J
You were absolutely right in your advice…
I'd like to thank you again for helping us come up with this list of schools. Visiting them all was a real eye opener. You were absolutely right in your advice and we understand the system much better now.
Related articles
---
---
Newsletter
Educational insight in your inbox. Sign up for our popular newsletters.
---