GSG writer Elsa Booth ponders the role of schools in fostering gender equality.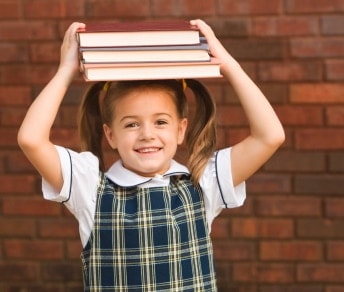 It was a casual comment, made by my five year old daughter after school one day about a fellow pupil, a boy, which first brought me face to face with the confidence deficit in infant girls. 'Christopher wants to be prime minister when he grows up', she said, full of vicarious pride. 'And you?' I said, 'would you like that?' She laughed it off; that was boys' terrain. Not something for little girls.
Yes, she's aware we have a female PM and yes, she's brought up in a house where she is repeatedly told and shown anything is possible but none of that seemed to be shaping her perception. It seems where boys - and unfortunately numerous psychometric tests on young children bear this theory out - have swagger and bravado from the outset, most infant girls do not.
Instead, infant girls have neat hair. They put on ballet shoes and play princesses (although according to my daughter being a princess is boring; it's more interesting being a serving girl). Serving girl, note. So while little girls might enjoy Enid Blyton romps at bedtime, where boys and girls get stuck into intrepid adventures (the lesser sex invariably being protected by the superior boys, by the way) when it comes to their non-fiction lives, they obsess about hairbands and net skirts. My daughter might have a penchant for lego, water pistols and whoopee cushions but she is still acutely aware of the need to conform and be neat. To wear shoes which sparkle. To notch up those house points for being a good little girl.
Now all this drifting around with fairy wings and dabbling in lipgloss seems fairly harmless. It stems, after all, from the consumerist welter of fluffy detritus from which there is no turning back. So we parents simply have to roll with it. That's the wonderful world of Disney for you. And of course we are not powerless; there is plenty we can do as parents to counteract this tidal wave. We can read books like Rosie Revere Engineer or Pippi Longstocking which reinforce how strong and clever little girls are. We can dress them in yellow, navy or grey, point excitedly to dinosaur skeletons in museums, make slime and share the rare art of gathering quality twigs from woods. Yet all this, no matter how diligent a parent might be, still doesn't seem to imbue little girls with the same vision and swagger of their male 5 year old counterparts. So, what's the answer; how can we solve the incredible case of the confidence deficit in very young girls?
Well my dear Watson, it's elementary. Quite literally. Because the true crucible for formation is primary school. It's primary school which lays down those critical foundations for a sense of self. And as a recent BBC2 TV documentary suggested, where a primary school went gender neutral for a term, tweaks in language, labelling and positive gender assertions liberate both boys and girls to think more freely and boldly about themselves and each other. (By senior school, frankly, it's too late; the confidence-sapping damage is done. All senior schools can do is steady the ship for girls and say 'it's ok to choose science and maths.'). The real work at schools needs to start aged 3 with boys and girls at every school in the country.
Girls' schools, which foster a be-neat and be-right approach, rather than encouraging girls to put their hand in the air and get the answer wrong, need to adopt a radically different approach. Being robust enough to 'have a go' is crucial. Or as Rosie Revere's splendid aunt says when Rosie fails in her task of building a helicopter: 'Life might have its failures but this was not it. The only true failure can come if you quit'. Equally co-ed schools, where boys are busy building dens in extra-curricular clubs whilst girls glue egg boxes and wool in arts and crafts, must find alternative inclusive ways forward. Everyone needs to meet this challenge head on and beat it.
As an editor of the Good Schools Guide, I've had the privilege of being able to look at some amazing primary schools, many of which are implementing subtle strategies which, if put together as a composite, would provide a simple, sensible and budget-friendly framework for helping infant-junior girls become bolder. So to parents of girls everywhere, I say please lobby for l these empowering ideas to be implemented at your child's school because they will help foster a sense of leadership and inspire girls to aim high. Do this while they are at an impressionable age and in their forties, they will no longer have to write books about 'Leaning In'; leaning in will be second nature.
Here is my pick of the GSG crop:
Leadership: some primary schools don't just reward one girl with the head girl role, they run it on a timeshare basis. 3-4 months each. More girls get to experience leadership and responsibility as the norm, as well as handing over and mentoring the next one in line.
Inspiration: call houses or teams after amazing women (one school went for Earheart and Curie). Imagine scoring house points for Curie and each time, have the thumping recognition that this woman discovered radium.
Getting stuck in: create an outdoors aspect to school; while not every child wants to or is able to swing from ropes or climb trees, all children love the sensation of having their hands in soil, planting, getting muddy. No space? A small raised vegetable bed will do. We want to see more filthy fingernails. If you have large school grounds, navigation and shelter building are tremendous.
Building resilience: it is well documented that any kind of sport builds robustness, helps deal with set-backs. So just one small but crucial point here: girls' football on muddy playing fields and cricket are not novelty items. They need to be a celebrated part of every school.
Role models: schools are pretty good at book selection but gender stereotyping is so embedded, some of it may go under the radar. Boys need to read about strong, funny, clever girls, as much as girls do. Books like 'Brave Margaret', 'Great Women who have changed the World', 'The Wollstonecroft Detective Agency' help. So too do female teachers in leadership positions. Showing as well as telling.
Inclusive activities: this is particularly important for school clubs. If it's a dance club, an evocation of tarantulas (as one school did) is interesting. If it's sewing, make minions. Same applies with colours; either avoid colour coding or subvert it, boys' loos painted pink. Why not? Dressing up boxes (so often sponge swords for boys, Snow White dresses for girls) probably need a sort out too. Nothing extreme. Just standing back and looking afresh at the contents.
Building support – girls' friendship can be a complex confidence-sapping business when you're very young, so buddy benches are a great idea. Some schools go further and deploy friendship stops, like bus stops. Girls (and sadly it usually is girls) hover nearby and are very quickly scooped up and drawn into games. Teamwork, responsibility and camaraderie, you see.