If you get the chance, chat to pupils; they are the ones who really know what's happening both inside and outside of the classroom. Try not to ask leading questions; similarly don't ask closed questions, especially if visiting a senior boys' school, otherwise you may elicit little more than a grunt.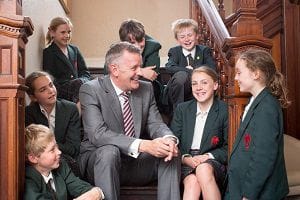 BEDE'S PREPARATORY SCHOOL
Are they relaxed and happy or formal in approach?
Do they seem keen, ambitious?
Are they interested in you and do they mention any of their achievements or those of others?
Can you imagine your child sitting amongst them in class?
The school
Why did you choose this school? Are you glad you chose it?
What do you like best about the school? Don't be surprised if it's break-times...
What subjects do you like best? (This often reveals the most popular members of staff.)
Are you happy here? Who wouldn't like it or fit in here?
Are you allowed to be an individual, to get on with your own thing, without teasing or bullying? (This might flush out peer group pressure to conform.)
What changes would you make if you were in charge? Don't be surprised if it is extended break-times....
Where is the head's office? What do you think of them?
Have you got a brother or sister in the school; what does he/she think of it?
What happens if you forget your books, calculator, homework?
Do teachers mark your work promptly and explain where you've gone wrong? What happens about corrections?
Fun and games - are pupils given a sporting chance?
How difficult is it to get selected for a school sports team or choir or after-school club?
Is it okay not to like/be good at sport? (Boys' schools in particular).
Do girls get equal sporting opportunities? (Co-ed schools).
Are there trips, tours and teams for all - or just the chosen few?
If you are looking at boarding:
What is the food like? Is there a good choice, with healthy options and old favourites?
Can you make yourself tea and toast if you're hungry?
What do you do at weekends? Does this correspond with what the school says happens?
How many stay for weekends? What ages?
Is there someone you can discuss worries with?