Best practice - our expert tips to help your child with exam revision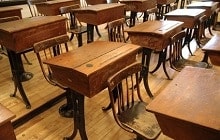 The weeks leading up to the summer exam season are stressful for everyone – children, parents and teachers. There's an awful lot riding on exam grades these days, from sixth form and university places to apprenticeships and job offers, so the revision period is vitally important.
Actually, some teachers prefer to call it 'exam preparation' rather than revision, arguing that revision suggests repeatedly going over old ground without necessarily learning from it.
Whether you call it revision or exam preparation, here are our tips on helping your teens to revise effectively and pass their forthcoming exams with flying colours. Remember, too, that GCSEs in England are being reformed and will be graded with a new scale from 9 to 1, with 9 being the highest grade. English language, English literature and maths are the first subjects to use the new system, with most other subjects adopting numbers by 2019.
Encourage your child to make a revision timetable – and get them to stick to it. Start revision early and prioritise weak or tricky topics rather than leaving them till the last minute.
Help your child to find the methods of learning and retaining information that work best for them. Children often find this difficult so it's worth going through the different options with them. These include reading and making notes, using flash cards or Post-it notes, watching video clips, playing back recordings of their own voice and mind mapping.
Check the exam dates, specifications and requirements. All exam boards publish these on their websites, along with a plethora of practice papers and mark schemes.
Your child is part of the YouTube generation so suggest that they check out revision apps, video tutorials and online resources. These can be very effective in clarifying areas your child feels less confident about.
Eating breakfast is crucial, both during the revision period and on exam days. Research has found that skipping breakfast reduces children's attention and their ability to recall information so eating a bowl of cereal or porridge may well give them the memory boost they need to tackle revision and exams.
Find a quiet space in the house where your child can revise. If possible, discourage them from wearing headphones – studying in a calm and peaceful environment is preferable, whatever your teenagers claim.
Encourage them to take regular breaks. Dividing revision into manageable chunks of two hours or so works far better than revising for hours on end. Research shows that learning is far more effective when spread out over stretches of time.
Get your child to test themselves at the end of their revision session, either by doing a practice paper or by making notes on what they have learned. The act of writing things down shows them what they do know and what they don't.
Exercise, fresh air and lots of sleep are vitally important. Encourage your child to stick to a regular bedtime. If possible they should avoid using their mobile phones, iPads and laptops when they should be sleeping.
It's important for children to keep revision and the impending exams in perspective. The better they prepare and the more confident they feel the less stressed they will be. But remind them that the exam period only lasts for a few weeks and then they've got the long summer holidays to look forward to.
Going up, going down

Going up
Growing up. Another day, another survey. This one was carried out at the London School of Economics on behalf of a bank (Nationwide Current Accounts) and found that 27 is the age at which most young people finally decide they're proper grown-ups. Moving out of the parental home is the time when feelings of maturity finally kick in apparently.
Class sizes. According to the Labour party children in primary schools are 'packed in like sardines'. According to independent sources a relatively small percentage of children in England's primary schools are in classes of 30 plus (although who said what is scant comfort if your child is the one with the desk crammed in between the stationery cupboard and the dressing up corner). Contrary to popular opinion, education experts have found that a class has to be 40+ for children to suffer any measurable decline in 'learning outcomes' and 15 or below for them to benefit.
Maths in the morning. A ten-year study carried out by academics from Royal Holloway, University of London, calculated that teenagers' exam marks in maths were boosted by seven per cent if the subject was taught in the morning. 'Fresher' brains are apparently better at tasks that call for problem solving and focus.
Going down
History in the afternoon. The same ten-year study (see above) recommends subjects like history be taught in the afternoon when the brain is at its 'most creative and open to discussion', says Velichka Dimitrova who carried out her research in secondary schools in Bulgaria.
'Calm down'. In her valedictory message Mary Curnock Cook, outgoing chief executive of UCAS, warned parents of university students not to become fixated on their offspring moving immediately from the 'treadmill' of school and university education to full-blown career: 'Students may need to take some down-time after the stresses of finals and dissertations. I don't think there's any harm in doing temporary, voluntary or non-graduate work to fill the gap before finding something more permanent.'
Win a £100 John Lewis gift voucher
We occasionally appeal directly to our readers to help us shape the way we respond to developments in the world of education and to enable us to continue giving well-informed advice to parents. Last month we asked our subscribers to fill in the first part of our Spring survey. This time, we're looking for responses to the second (and final) part. We are keen to hear your opinions on faith schools and grammar schools. University applications and admissions also pique our interest this month and your thoughts will gratefully received. The survey shouldn't take more than five minutes and everyone who completes it between now and the end of May will be entered into a prize draw for a £100 John Lewis gift voucher.
www.surveymonkey.co.uk/r/spring17pB
Don't forget to follow The Good Schools Guide on Facebook @GoodSchoolsGuide www.facebook.com/goodschoolsguide and Twitter @GoodSchoolsUK twitter.com/GoodSchoolsUKhttp://twitter.com/GoodSchoolsUK to receive all the latest education news and advice.
Wanted: editors to review schools abroad
We are looking for parents/expats who would be interested in covering schools (and expat life) in their host cities abroad. Our editors are in constant flux as they are reposted (although many take the job with them). We are looking for new country or city editors in: Frankfurt, Dusseldorf, Luxembourg, Paris, Dublin, Madrid, Milan, Rome, Beijing, Shanghai, Singapore, Hong Kong, Kuwait, Lisbon, Moscow, New York, Cairo, Delhi.
If you have a friend in one of these cities who might be good at this, please contact [email protected] or feel free to send her my details. For more information, click on www.goodschoolsguide.co.uk/international/work-for-us-editors