Term time holidays - what our readers say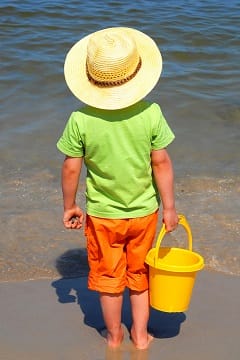 In last month's newsletter we reported on the news that Jon Platt had won the right to take his children on holiday in term time. In a landmark case the High Court said that Mr Platt should not be fined for taking his youngest daughter out of class to go on a family holiday to Florida without permission.
The issue has clearly divided parents so we asked for your thoughts. We received plenty of replies. More than two-thirds (69 per cent) of readers said parents should be allowed to take their children on holiday during school time. Not only that, well over half (55 per cent) of you said you actually would take your children out of school for a holiday.
There were heated views on each side. While some argued that the prohibitive cost of summer holidays left them with no option than to book trips in term time, others questioned how on earth teachers would be able to plan lessons if children are allowed to drop in and out whenever their parents like.
'Jon Platt should never have been prosecuted,' said one angry respondent. 'Local education authorities have become overbearing and arrogant, convinced that they are always in the right. They should be trained in humility, restraint and common sense.' Another argued that childhood is 'being destroyed by the culture of academic inflation' and said that 'a holiday to Africa enriches their lives more'.
Others reckoned the decision to take children out of school should be left to parents. 'Parents should be able to decide what is best for their children,' said one. 'Obviously not when doing exams, or too often, but sometimes there is more to education than school. And it is certainly not right that you can get a criminal record for this.' Another declared: 'If your child has good attendance then I don't see the harm in taking them out for a few days during term time. Where they are studying GCSEs, SATs or A levels then I would say no.'
There were plenty of comments on the other side of the debate too. 'Education is more important than a cheaper holiday and you only get one shot at education,' wrote a reader. This view was echoed by another parent, who wrote: Healthy kids should be in school during term time. Holidays are a choice. Education is a necessity.'
A parent with two children pointed out that taking children out of classes causes havoc when it comes to lesson planning. 'If every parent tries to take their children out of school during term time, the teachers will be in a difficult situation – whether to continue with the syllabus when there are more absentees in the classes. It will be double the work for them. When one batch of children are back, another set will be off. Teachers are already struggling with long hours and less pay.'
A third group said that the decision should be left to head teachers' discretion and called for parents and teachers to work together. 'Leave should be allowed, but under exceptional circumstances and with clear guidance,' wrote a parent. 'For example, travelling for a family wedding or funeral, yes, but travelling for cheap holidays, no.'

School reviews
It's a busy time for Good Schools Guide writers, many of whom like to visit the schools they are reviewing during the summer term. There's a lot of walking outside – whether it's between boarding houses or over sports fields – and visiting in May or June should mean not having to bring a pair of wellies just in case. This year the weather has not been kind, but luckily our writers don't mind getting their feet wet.
New school reviews now up on our website include: The King's School (Worcester), Moor Park, London Academy of Excellence, The Leys, Abberley Hall, Emanuel School, Eltham College, Kingswood, and Oakham.

The Good Schools Guide education barometer
Going up
Bridge Farm primary school in Bristol. Banksy, the elusive Bristolian artist, decorated one of its playground walls as a thank you to pupils for naming one of their houses after him. What the caretaker initially thought was graffiti was, in fact, a Banksy thanksy.
School fees. Charlotte Avery, president-elect of the Girls' School Association, advised middle class parents who are 'put off' private schools by soaring fees to cut back on cars and holidays. We think you'll find they already have, Ms Avery.
Spirit of reconciliation. Desertmartin, a Church of Ireland primary school, and Knocknagin, a Catholic Maintained primary school, are set to become Northern Ireland's first jointly-run church school. Amen to that.
Going down
Future sales of mobile phones and tablets. Mary Berry thinks they're bad for children. Enough said.
Move over nurture, it's nature. Scientists from King's College London say that genetic propensity can account for 'up to 80 per cent of students' A level choices.'
Lazy stereotyping. Julie Robinson, general secretary of the Independent Schools Council, thinks it's time that press and commentators took a more balanced view of independent schools. In an article for The Telegraph Ms Robinson paid tribute to 'diverse and exciting' partnership work, 'which quietly goes on all around the country.'