New year, new career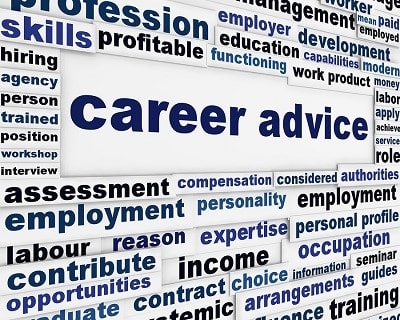 November's newsletter featured an article about the wide variety of excellent degree courses offered by non-Russell Group universities. But what if your son or daughter isn't sure what they want to do when they leave school? Maybe you or they have doubts about whether university is the right place for them, or maybe they want to explore alternative routes into employment?
The new year is often a time of reflection and promises to oneself to advance, change direction or be more motivated. And if everyone is at home for the festive holiday this could be an opportunity for parents to broach the 'What next?' conversation with their offspring. Even if parents don't find the right moment, it's the sort of question that visiting relatives are bound to ask, one that is more often than not accompanied by a bonus gift of well-meaning but antediluvian 'careers advice'.
Of course, it isn't unreasonable to ask young people about how they see life evolving after school or university and how they propose to make a living. However, if someone is already confused or worried about what the future holds, kindly enquiries can quickly escalate into distressing arguments.
Would family harmony be maintained if your son or daughter were able to discuss their ambitions and plans for the future in a neutral setting with a careers professional? If so, help is at hand.
The Good Schools Guide is now working with some of the UK's best careers consultants. They can tweak a CV, discover skills sets, identify personality traits and align passion with reality, while keeping focus sharp and motivation alight.
Sometimes an hour's discussion with a professional advisor can be enough to tackle a specific problem or dilemma, in other circumstances a series of sessions may be required. In all cases the careers consultancy we offer is designed around your needs and each bespoke session has a goal and tangible outcomes. Find out more here.
Contact us: 0800 368 7694 from the UK +44 203 286 6824 from overseas or email [email protected]
Why not enter our prize draw to be in with a chance to win up to £2,500 of careers advice for any member of your family? Enter the prize draw.
Going up
Top of the class. Hearty congratulations to Meysey Hampton Church of England Primary School in Cirencester for coming top in this year's primary school performance tables. An impressive 100 per cent of pupils reached the expected standard while 81 per cent achieved the higher standard.
Talented teachers. Four UK teachers have reached the shortlist of the $1 million Global Teacher Prize. The contenders for the world-renowned award, which will be announced in February 2018, include Eartha Pond, a PE and sports teacher from The Crest Academy in north London, Tuesday Humby, principal of Ormiston Chadwick Academy in Cheshire, Andria Zafirakou, who teaches at Alperton Community School in north London and Rebecca Cramer, co-founder and headteacher of Reach Academy Free School in west London. Good luck to all.
Reading for pleasure. Nine and 10-year-olds in England have improved their reading scores in a set of prestigious international tests. They were ranked a respectable eighth out of 50 participating countries – up from 10th in the last tests five years ago. Incidentally, if you're looking for book ideas for this age group over the Christmas holidays, we recommend Toto by Michael Morpurgo and Emma Chichester Clark, The Wizards of Once by Cressida Cowell and Beetle Queen by MG Leonard.
Going down
Christmas mail. Have your children written their letters to Father Christmas and posted them up the chimney yet? If they haven't, they're not alone. The head of the Children's Literacy Charity reports that this festive tradition is fast being replaced by email, with fewer children than ever putting pen to paper and writing to Father Christmas. We won't hold our breath for handwritten thank-you letters in the New Year either.
Telephone turmoil. France has announced plans to ban children from using mobile phones in school from September next year. Education minister Jean-Michel Blanquer apparently reckons the ban will encourage wholesome pursuits such as playing football in the playground and singing in the choir but considering that 93 per cent of 12 to 17-year-olds in France own a mobile phone many have their doubts. Watch this space.
The editors would like to wish all our readers a very merry Christmas. Thank you to everyone who has taken the trouble to send us comments and ideas in 2017 – we'll see you next year!
The fourth issue of Chalk & Chat, The Good Schools Guide's exciting new digital magazine, is out now. Informative and engaging, the autumn edition is packed full of advice, guidance, reviews, debates and opinion pieces.
Tell us what you think about the latest issue. Email us at [email protected]
Join us on Facebook, Twitter and LinkedIn
Did you know that The Good Schools Guide has over 20,000 followers on Twitter? Whether it's schools, tutoring, exams, universities or careers and apprenticeships, our tweets, updates and posts will bring you all the latest news, advice and even the occasional Good Schools Guide special offer. We're always happy to hear from you through our social media pages so please, click, click, click and join our growing band of parents and educationalists online.
twitter.com/GoodSchoolsUK
www.facebook.com/goodschoolsguide
www.linkedin.com/company/the-good-schools-guide
www.linkedin.com/showcase/good-schools-guide-careers
twitter.com/goodcareersuk