Stand by for some myth-busting from our SEN consultants
A warm welcome to all the new subscribers we met at The Autism Show in London earlier this month. Our SEN consultants were in constant demand, answering queries from parents on the stand and in our consulting room. We know that some people waited patiently and didn't get chance to speak to us so please get in touch if you still need help by phoning 0203 286 6824 or emailing [email protected]
We were angered and frustrated to hear from parents of children with SEN that some of the same old myths are still being peddled by local authorities and even schools.These included:
'There is no point in applying for an EHCP (Education, Health and Care Plan)'
Absolute rubbish. The only grounds you need to have for applying for an EHCP (which can provide the funds for additional support in mainstream, or a special school place) are that you suspect the child has a special need. It's great if you can do this with the support of your school, but if they are not helpful, you can request one yourself via the special educational needs department at your local authority (LA).
Be prepared for a battle. Supplying the provision detailed in an EHCP is of course costly for a local authority, and they are reluctant to issue them. The LA must respond within six weeks of your request, indicating whether they will carry out an assessment for an EHCP. From what we've heard anecdotally, they are routinely refusing to carry out assessments, which is perhaps the basis for some schools declaring there is no point in applying (and which indeed can deter some less determined parents). However you shouldn't give up if you are convinced your child does need additional support – you can make an appeal to the Special Educational Needs and Disability Tribunal (this is generally dealt with as a paper hearing and you are not required to attend the court).
'You cannot apply for an EHCP until the child has seen an educational psychologist (EP)'
This is not true, and once the LA has agreed the need to assess your child, they will have to seek professional input. LAs are required to produce EHCPs within 20 weeks of the agreement to assess, but figures show this is being breached in around 50% of cases, and we've heard of families waiting more than a year. Given that it can be a lengthy process, it's usually best to apply sooner rather than later. However it is somewhat chicken and egg, as the EP report can provide the evidence you need to gain an EHCP. You can commission EP reports privately, which brings us to the following:
'There is no point in getting independent reports' and 'local authorities do not need to take into account private reports'
All services – educational psychologists, speech therapists, occupational therapists, CAMHS (child mental health), etc – are severely stretched and you can expect waits of one or two years to have your child assessed by them. Therefore if you can possibly afford to have a private assessment, we would recommend you do so in order to cut the wait. Those doing private assessments are professional and impartial. They will not say something in a report just because a parent wants them to.
These reports can be used in evidence if you need to take your LA to tribunal either over the refusal to assess, or because they are failing to put adequate support in place for your child. The findings of any private reports should also be taken into account when an LA is writing your child's EHCP.
If you need help finding a private practitioner to carry out assessments in your area, our SEN team can help.
'We can't move to a new house/new school in a different area because our child has an EHCP which would be cancelled and we would have to start again'
People have to move all the time for all kinds of reasons; when you move into a different area, that local authority is obliged to pick up responsibility for your child.
Your child's EHCP will transfer to the new LA on the day of your move, or within 15 days of the new LA becoming aware that your child is now resident in the area if later.
The new LA must honour the plan, but it has the right to review it, or to carry out a new EHC needs assessment. There is a risk that the new LA will want to make changes to the plan which you don't agree with, but you will be on a strong footing to challenge this if you can show the history of support needed in your previous authority.
If you are planning a house move it is wise to get in touch with the SEN team at the new local authority ahead of the move to advise that you will be arriving with a child with additional needs, and to set the wheels in motion.
Post-16 and SEND
We also dealt with a number of enquiries from parents concerned about education for their children with SEND beyond the age of 16. If you are in this position, please note that our SEN consultants also deal with further and higher education, and can advise you on sixth forms and FE colleges suitable for pupils with additional needs, specialist colleges for pupils aged 16 to 25 as well as applying to university and getting the proper support in place for students with special needs.
Choosing a school for a child with special needs
Our SEN director will be speaking at a seminar on how to find a school for children of all ages with special needs (London, 5 July). Contact Cityparents for tickets.
The Good Schools Guide 21st Edition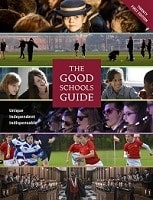 It's big, it's bold, it's going to take up quite a bit of space on your bookshelf. Yes, the 21st edition of the Good Schools Guide is out. With a spine width of nearly 7cm, it didn't quite break the printing press but we hear it was a close-run thing – no surprise considering there are over 1,000 reviews of state, independent and special schools inside. Here are the answers to some of the FAQs about our publications:
What's the point of publishing books when you have a website?
There is continuing demand for paper versions of this and our other guides (London schools, boarding schools) from schools, parents, grandparents,families living abroad or with limited internet access and, of course, people who just prefer books.
How do schools get into the Guide?
No school can pay to go in the Guide. All the schools we feature – state, independent and SEN – are in because parents tell us they're good and objective evaluation (exam results, value added etc) plus our own expert research, agrees.
Why isn't my child's great primary or prep school in the Guide?
There are many, many excellent primary and prep schools but unfortunately we simply can't put them all in – often because they're too small or simply too limited in their catchment.
Do you really visit every school in the Guide?
Yes, we really do. We keep the information in our reviews as up to date as possible and re-review schools every six years (sooner if there is a new head or other significant change). Our writers research their reviews thoroughly and talk to as many parents and children as possible and parents are welcome to contact us at any time with new information about schools they know.
Going up
The tale of Trumpelstiltskin
Donald Trump is rarely out of the headlines – and it seems that children are just as fascinated by the US president as their parents. How do we know? Because 'Trump' has been declared the children's word of the year after thousands of youngsters featured it in their entries to BBC Radio 2's annual 500 Words writing competition. Trumpelstiltskin, Trumpzilla, Boggle Trump and Snozzle Trump – look out for the movie.
Checkmate
Eight hundred primary schools have added chess to the curriculum to help pupils improve their maths, enhance their concentration and encourage 'digital detox' – with astounding results. A Middlesbrough head said of her pupils: 'Their concentration is incredible. I've never seen anything like it in any other lesson.'
Rosemary for remembrance
This year's exams are over (hurrah!) but remember rosemary oil next time round. Scholars in ancient Greece wore sprigs of the herb to improve their memory during exams and now researchers at Northumbria University have found that pupils doing tests in a rosemary-scented classroom achieved 'significantly higher scores' than their pals.
Going down
Could do better
The LSE, Southampton and Liverpool are just a few of the leading universities that failed to score highly in a new ranking of degree teaching standards. The Teaching Excellence Framework rated 295 institutions bronze, silver or gold according to their undergraduate teaching.
Reluctant boy readers
Only a third of teenage boys enjoy reading. A new study by the National Literacy Trust, the charity dedicated to raising literacy levels in the UK, found that even though nearly three-quarters of boys aged eight to 11 enjoy reading, only 36 per cent of boys aged 14 to 16 like curling up with a good book.
Grammar school expansion abandoned
If the Queen's Speech is anything to go by, it looks as though the creation of a new wave of grammar schools in England has been dropped. The controversial plan to stop free lunches for all infants was also markedly absent. Watch out for proposals for satellite grammar schools (extensions, but not necessarily on the same site, to existing grammars) such as the soon to be opened 'annexe' to the Weald of Kent Girls' Grammar School in Sevenoaks.