Everything parents want to know about UCAS but were afraid to ask …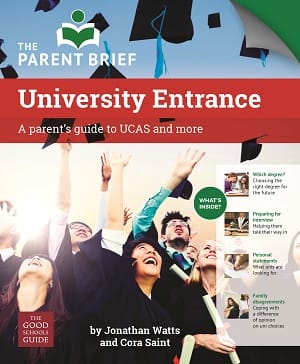 Most schools do a very good job of supporting pupils as they make their degree course and university choices, but spare a thought for parents. To them the whole process can seem like a maze of choices, deadlines and acronyms. After all, some of us have only just stopped saying 'UCCA' and 'O level' rather than 'UCAS' and 'GCSE'.
In addition to worrying about whether their son or daughter has made the right choice and will get the grades they need, parents are also concerned about the short- and long-term financial realities of university life and career prospects.
The UCAS website is very well designed to guide users through the process but it is geared to the prospective student who could, in theory, complete their application with little or no input from parents. Many parents feel that they would like to understand the UCAS system better so that they can support their child and ensure they are on track for the various deadlines
Of course it's important that your son or daughter should be the main driver for decisions that will shape their future, but wouldn't it be useful for you, their parent, to know what was expected at every stage? The latest title in Gresham Books' Parent Brief series, University Entrance: A Parent's Guide to UCAS and More has been written with this in mind.
This comprehensive guide, written and edited by experts and endorsed by The Good Schools Guide, covers every stage of the application process including post-school choices, gap years, league tables, loans, fees and grants, studying abroad, Oxbridge, medicine and dentistry, Clearing and freshers' week.
Every chapter features case studies, inside information from higher education and careers experts, and authors' top tips. The parenting advice sections deal with topics such as how to manage arguments (about choice of course, university etc) and, of course, how to get through those first few weeks after your child has left for university.
Buy The Parent Brief: University Entrance £19.99+p&p
Secondary school fiasco for children with SEN

More than 3,800 children with special needs who are due to transfer to secondary school in September do not have a place owing to widespread failures by local authorities to complete the paperwork in time. Bernadette John, The Good Schools Guide's SEN director, reports.
The shocking scale of ineptitude came to light after legal firm Simpson Millar submitted freedom of information requests to each local authority. Imogen Jolley, head of education at Simpson Millar, says they knew there was a problem from the number of calls they were receiving from worried parents, but that the findings were "staggering and hugely worrying".
When children have special needs and/or disabilities, local authorities are required to draw up a transition Education, Health and Care Plan (EHCP), which specifies the school they will go to and the support they will need. Councils should have finalised this by 15 February, and parents should have seen a draft at least four weeks ahead of that to enable them to review it and provide feedback, or to challenge either the proposed provision or school.
Councils have blamed the delays on teething problems from legislation introduced two years ago in the Children and Families Act, but they knew about this deadline a year ago, and the discrepancy in performance between councils suggests incompetence in some. Hampshire tops the list of offenders with 325 children affected, way ahead of the next worst, Wirrall, with 144 cases. Buckinghamshire, Suffolk, Staffordshire, Derby, Lincolnshire, Bradford, Bolton and Cheshire all have in excess of 100 cases outstanding. Compare these to the best performers, all with just one case exceeding the deadline apiece - Greenwich, Newham, Milton Keynes, Wokingham and Middlesbrough.
Having an EHCP enables a child to take priority for a school place in the admissions process, and means a school can be compelled to take a child even if it is full - so children who did not receive one in time may now have missed out where schools are oversubscribed. If, as a result, they are given a school which the family feels is unsuitable, they will have to go through mediation and/or a costly and stressful appeal to the Special Educational Needs and Disability Tribunal – with no guarantee of success, despite being placed in this position by failures at local authority level.
In the meantime families are left in limbo, and worried about how they can adequately prepare their child for the move up to secondary – the system is supposed to deal with SEN admissions first precisely because those children may need more time to adjust to transition, and to familiarise themselves with a new environment. Without a place, they may now miss out on key induction activities, and the delay means new schools will be scrambling to prepare any additional resources or staffing needed.
"Thousands of children with special educational needs now face a stressful, poorly managed and hugely overwhelming transition from primary to secondary school," says Thomas Mitchell, education solicitor at Simpson Millar.
"Local authorities that missed the deadline should be asked to explain how they plan to do better next year."
We heartily agree. And our advice to any families who will be in this position next year is to get onto your local authority early, and keep pressing them to act. Speak to our SEN team if you need further advice.
The Good Schools Guide education barometer
Going up
Smile and eat ice cream. A message from Bucklebury Primary School teacher Jenny Thom to pupils doing their SATs this month has been shared more than 64,000 times on Facebook. Her wise advice includes 'smile', 'eat Haribo or ice cream', 'go on a bike ride' and 'see friends'. We couldn't have put it better ourselves.
Gold medal glory. Two ex-servicemen turned trainee teachers scooped gold medals for cycling at this month's Invictus Games. Bravo to Mike Westwell of Nottingham Academy and Andy Perrin of East Barnet School, both of whom are on the Troops to Teachers course after suffering life-changing injuries.
School dinners. Congratulations to Poole Grammar School catering manager Chris Watson. He not only cooks 1,400 school meals a day (respect!) but has just been named as a runner-up for the Cook of the Year title at this year's BBC Food and Farming Awards, known as the 'Oscars of the food world'.
Going down
Illegal schools. Thousands of children are being taught in unregistered schools across England – far more than anyone realised. Ofsted Chief Inspector Sir Michael Wilshaw says a crackdown has found more than 100 suspected illegal schools – half of them faith-based.
Digital devices. A paper published by the Massachusetts Institute of Technology says that allowing students to use computers and the internet in class substantially harms their results. The jury is still out on this one, we reckon.
Term-time holidays. Jon Platt's High Court victory over taking his daughter on holiday in term-time seems to be causing confusion all round. Not only that, travel companies have apparently seen a spike in enquiries about school-time holidays. Should parents be allowed to take their children on holiday during term-time? Let us know your thoughts at https://www.surveymonkey.co.uk/r/term-time-holidays