When Tutors go bad
We are at our most vulnerable in times of crisis (a word aptly depicted in Chinese by the characters for danger and opportunity). When it's our children whose lives have taken a wrong turn, we'll do almost anything to get them back on the road to success and happiness.
At such times we may well seek help from professionals and have every right to expect they treat us, not to mention our children, with empathy and understanding.
Most of the time, that's exactly what happens. Occasionally, however, so-called experts turn out to be complete rotters whose stocks of TLC are reserved exclusively for the health and wellbeing of their bonny, bouncing bank balances.
Which brings us to tutor companies. Here at The Good Schools Guide, we're cautious fans of tutor firms. The majority of owners and tutors are fine, upstanding and lovely people. Name a positive adjective and we'll find a parent who's used it in one of our Good Schools Guide tutor reviews (see our website www.goodschoolsguide.co.uk/tutors for a full list).
Which is why we were fairly appalled to be contacted by Mother A. For reasons that will become clear, she doesn't want to be identified.
Her son had narrowly missed out on the grades he needed for a place at his first choice university, and was distraught. Nowhere else would do. It meant reapplying and redoing the A level that he'd bombed in first time round.
Expert tuition was a must. Mother A phoned a firm who came complete with their own registered exam centre – an essential ingredient. A premium-price tutor was suggested, engaged and started beating what became a well-trodden path to their front door. Mother A, a highly trained professional, concentrated on earning the money to pay for her.
So far so good? Actually, no. Fairly quickly, it become a case of so far, ever so slightly bad. For a start, the tutor was not quite the queen of the inspiring and nuanced lesson that she had been billed as.
While she had a clear plan in place for each tutorial (good), that plan increasingly involved setting her pupil loose on a past paper while she 'invigilated' with a nice sit down and a cup of coffee (bad). The time just whizzed past – suddenly it was two hours and £100 later.
Then there was the admin. Instead of receiving invoices at regular intervals, bills appeared at random – every two or three weeks, always for the wrong amounts and never, strangely, in Mother A's favour.
When she complained, a new invoice would appear, sometimes consisting of the previous two incorrect invoices added together to produce an outstanding amount that was just as wrong but much larger – and accompanied with threats of increasingly terrible retribution if she didn't cough up.
Things came to a head after her son had completed his retakes. Having agreed (as she thought) the outstanding total, the tutor firm's boss told her that if she didn't pay the amount he said was due, he wouldn't let her son have his results and would withdraw his UCAS application.
No pushover, Mother A had the gumption to go the exam board and UCAS, told them the whole sorry tale, and was given the results direct. Her son now has his university place and the tutor has the amount owed (and not a penny more).
As she points out, while DRB checks mean that individual tutors have never been more closely vetted, there's precious little protection if there's a dispute between parents and the tutor firm itself.
'This company is effectively holding parents to ransom by refusing to release exam results until incorrect invoices are paid,' she says. She reckons other parents, faced with a distraught child (her son was reduced to tears, for the first time in months), would simply pay up.
So who do you call when it all goes wrong? Trading Standards these days don't deal direct with members of the public. All complaints have instead been outsourced to Citizens Advice. To report a complaint, you go online or call a helpline (03454 040506). Wait, keep on waiting, give up and try the following day when you may finally get through to a nice lady who sounds like Ruth from The Archers (well, ours did).
By the time Ruth has reassured you that a top investigator from Trading Standards is tooling up with an extra strong clipboard and pen, any dodgy tutor boss has probably long since stashed the cash in whichever tax haven is currently the funny money expert's destination of choice.
We don't think this is good enough. We're currently looking at whether a formal tutor firm inspection system – think Ofsted – would be welcomed by parents. There will be more information in the next newsletter. In the meantime, please do pass on any anecdotes, good or bad, about your experiences of tutoring [email protected]
In the meantime, before engaging a tutor firm, our advice is to check that it belongs to the Tutors' Association. (This firm, unsurprisingly, does not). Members sign up to a strict code of practice and will be investigated if there's a complaint. When it comes to individual tutors, vet references and DSB checks thoroughly - there's more guidance on our website. And if anything about the way they operate seems dubious, give them a very wide berth.
thetutorsassociation.org.uk
www.goodschoolsguide.co.uk/tutors/find-a-tutor
Office of Fair Trading guidance on threats to withhold exam results: Universities' Terms and Conditions: An OFT report
Why I hate halloween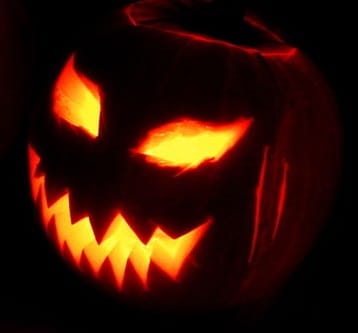 Halloween is approaching – and a Good Schools Guide writer is dreading it. She explains why.
When I was a child Halloween didn't amount to much. We carved a few swedes (much harder than pumpkins) into lanterns and bobbed for apples – my mum filled a basin with water, lobbed in a few apples and challenged us to get hold of them with our teeth – but that was about it. Yes, they were less sophisticated times.
But these days Halloween is 'celebrated' US style. It's a big deal for children and an even bigger deal for retailers. In the weeks leading up to October 31 supermarket shelves everywhere are stacked with spooky masks, skeleton onesies, pumpkin tutus and trick or treat sweets, all branded in black and orange. At Poundland you can buy a Halloween 'horror make-up kit with fake blood' or 'a horror glove with fake fingers as knives'. Party Pieces, the company owned by the Duchess of Cambridge's parents, sells vampire suits and devil suits. They even offer inflatable chainsaws and axes, both splattered with fake blood, and were slammed in the press for selling a 'roadkill bodysuit'.
Call me a spoilsport, but as far as I'm concerned Halloween is tacky, unwholesome and downright scary - and I'm clearly not alone. A study carried out by parenting website Channel Mum found that nearly half of parents reckon that Halloween costumes for children are 'too frightening' while one in seven are worried that Halloween is becoming more sinister every year.
Halloween dates back to the ancient Celtic festival of Samhain, when people lit bonfires and wore costumes to ward off ghosts and spirits. Later on it became known as All Hallows' Eve – occurring just before All Saints' Day on November 1 and All Souls' Day on November 2.
But today's Halloween has gone way beyond that. It is now an excuse for young children to dress up in terrifying outfits, don masks and venture out in the dark to go trick or treating. I can't imagine any other occasion where children are encouraged to go and knock on neighbours' doors in the hope of collecting bucket-loads of sweets – yet that's what happens at Halloween.
Lots of my friends say it's harmless fun, but others dread it (and the consequences), when their children return laden with mountains of sweets and chocolates and promptly gobble up the lot. Elderly people or those living alone can also find it a menacing time, especially if older children and teenagers, armed with flour and eggs, are knocking on doors.
What do you think about Halloween? Let us know [email protected]
Going down
Adieu history of art, farewell archaeology, sic transit classical civilisation?
AQA is consigning its A levels in these subjects to the dustbin of history because, wait for it, their 'specialist options' make them 'too complicated' to run. Art critic and historian Simon Schama denounced the exam board as 'cultural pygmies'; Time Team presenter Tony Robinson called the decision 'barbaric'; classicist Natalie Haynes, writing in the Guardian, wondered what kind of message, 'doing this is hard, so we've given up' sent out to students.
Wailing and gnashing of teeth isn't universal though. Jonathan Jones, also writing in the Guardian, claims that these 'elite' subjects are rarely offered in state schools, the implication being that they are only fit for the bonfire of the bourgeoisie.
In fact rumours of the extinction of these A levels are at least two thirds exaggerated, probably because AQA is the exam board everyone has heard of. Smaller board, OCR, continues to offer ancient history A level and there is a Cambridge Pre-U course in art history. Sadly, but perhaps because only 369 candidates took the exam in 2016, archaeology A level does look set to become a thing of the past.
Going up
Wellbeing. Sir Anthony Seldon, former head of Wellington College and now vice-chancellor of the University of Buckingham, wants the government to introduce a wellbeing league table for schools to sit alongside exam performance rankings. He told the Telegraph that he hopes this will help employers find candidates with 'character' and not 'A* junkies who can't converse.'
The price of (perfect) posterity. For an extra £7 school photographers Cardwell and Simons will airbrush anything unsightly from pupils' photos. Looks like embarrassing spots and messy hair will be going the way of archaeology A level.
The vocal range. The Royal Opera House is running a pilot project in primary schools to promote 'healthy singing', as opposed to X Factor style singing ('sliding onto notes', narrow range). Pupils will learn 'good technique and diaphragm support' while creating their own version of Carmen. With or without the cigarette factory we wonder?

Independent Education will be at Battersea 12-13 November
From Highgate to Gordonstoun, Harrow to Millfield, this year's Independent Schools Show features the finest schools from right across the UK. There are over 200 leading schools at this year's show, the largest yet.
Whether you are looking for the right nursery and pre-prep in London, or thinking about sixth form and university options, there is no more efficient way to see what's available.
Parents also have the chance to hear talks from the most knowledgeable people in UK independent education; people like Barnaby Lenon, Chair of the Independent Schools Council, Professor Mark Bailey, High Master of St Paul's School, and Patrick Derham, Head Master of Westminster School. Topics cover all aspects of education. Sir Anthony Seldon will be talking about happiness and Dr Sarah Wynick and Laverne Antrobus from the Tavistock will discuss providing support for your changing child. The programme of talks is designed to help you best help your child through the education system.
All this plus a free crèche, a great café and a zoo in Battersea Park to keep the children entertained.
The Independent Schools Show takes place on the weekend of 12/13 November. There is no better time or place to explore independent education.
Register for free tickets
David Wellesley Wesley, founder of the Independent Schools Show

Our new digital magazine www.goodschoolsguide.co.uk/chalk-and-chat offers a fresh slant on all aspects of schools and parenting - stimulating, witty and informative. If we all knew each other, this is what we'd do – share experiences, offer advice and discuss challenges. We hope you'll join our conversion @GoodSchoolsUK #chalkandchat.