Fees at independent school have risen much faster than wages over the past decade or so. As the economic down-turn puts additional pressure on pockets, so the hunt for bargains intensifies.
You have to search but deals are there for the taking.
Reducing the school fees burden
Fees are high at independent schools but there are two distinct ways of making them lower:
Firstly, if your child has a particular aptitude - usually academic, sporting, artistic or musical - there may well be a scholarship he/she could apply for which may reduce the fees by anything from five per cent to 50 per cent or more (more is rare).
Secondly, schools increasingly offer bursaries to attract the bright children of less well-off families. These can be worth up to 100 per cent of fees (or even more to cover additional costs) in some cases. Your need to be prepared for annual means-testing. The family income threshhold for qualifying for limited bursarial help in many schools is pretty low and will include looking at the value of your assets, not just your income. However, it's always worth enquiring at the bursar's office of any school in which you are interested.
School fees - the figures
Appr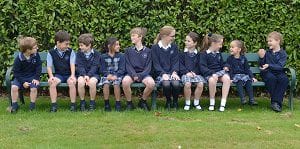 oximately seven per cent of children in England are at fee-paying (independent) schools. Fees range from under £3,000 per annum to £27,000 and above for a day pupil, with wide variations depending on the age of the child, the school's location and so on – and can head towards £40,000 per year for boarding.
The majority of children in Britain attend state-funded schools, that is, they're paid for by the government and local authorities from taxes. Even private schools, funded mostly from fees paid by parents, enjoy a degree of support from the state, as most have charitable status. There's not always a deal of sympathy for private school education and the struggle parents have to pay the fees - but that shouldn't stop you seeking help. The number of schools offering scholarships (not means-tested) worth 50 per cent or above are few; however almost all schools will offer to 'top up' your scholarship with a means-tested bursary, but your needs have to be genuine; expect house, car and other bankable assets to be considered alongside income.
Scholarships for the brightest and the best
These are designed to attract the academically bright or specifically talented child (art, music, science, sports, all-round and one or two more unusual ones – for DT at Oakham and Millfield, for example) and they vary in amount.
As a rule of thumb, the old famous foundations are the richest: they may well disclaim this, but all is relative; girls' schools, alas, offer fewer and less valuable scholarships. There are also schools offering scholarships which hardly cover the cost of extras. Some are offering honorary scholarships - a programme of special events and activities but no additional funding. A number of schools (eg Eton, Westminster, St Paul's, Harrow) have a statutory number of full bursaries to offer and, from them, 'full' may include the cost of uniforms and travel to school.
An increasing number of schools, wary of the threat to their charitable status, are actively seeking pupils from seriously underprivileged backgrounds.
Esoteric scholarships
Look out for esoteric scholarships for, for example, sons and daughters of clergy, medics, single mothers. Licensed Victuallers' in Ascot gives discounts to children of parents working in the licensed drinks trade (from bar staff to brewers). If your name is West and you live in the parish of Twickenham there could be bursary waiting for you (at Christ's Hospital).
Scholarships to choir schools are worth thinking about, but they will not cover full fees and the children work incredibly hard for them (do ask what happens when their voices break). But this could well be the beginning of a music scholarship into public school. If you are after a musical scholarship then the Music Masters and Mistresses Association publishes an annual scholarship handbook listing music awards at independent schools.
The Good Schools Guide Educational Consultants has amassed a central resource of scholarships and bursaries and can advise on options at a range of schools.
Internal scholarships
Keep your eyes open for internal scholarships which run at various stages, sixth form especially. Of course, there are also increasing numbers of schools luring pupils in at sixth form with generous scholarships: might be worth moving schools for.
Useless scholarships
Don't fall for them. It is a false economy to be flattered into going to the wrong school for £200 off the bill.
You may be much better off with a school with slightly lower fees to start with but no scholarship on offer.
By the way, it is well worth lobbying for 10 per cent off in any case – if you have three children you should be able to negotiate a job lot. Heads are used to this, wary of it – but take courage: this is the way the world now is. Of course, you may get a raspberry.
NB Scholarships at some schools may be financially useless (honorary) but a number of schools have excellent extension programmes for those who are gifted, talented or able. Do ask what is on offer for scholars.
Bursaries
Usually for helping out the impoverished but deserving and those fallen on hard times. Offered by most senior but few junior schools. Usually extend up to 100 per cent of fees, depending on income.
At Christ's Hospital, some 40 per cent of pupils pay 10 per cent of fees or less.
Reed's School was set up to education boys whose father had died, and it still gives awards of up to 100 per cent to those with difficult home lives.
Charitable trusts
Charitable grant-making trusts can help in cases of genuine need. ISCis (the Independent Schools Council information service) warns parents considering this route:
'Do not apply for an education grant for your child unless the circumstances are exceptional. The grant-giving trust will reject applications unless their requirements are satisfied.'
The genuine school-fees needs recognised by the grant-making trusts are:
Boarding need, where the home environment is unsuitable because of the disability or illness of the parents or of siblings;
Unforeseen family disaster, such as the sudden death of the breadwinner when a child is already at school;
Need for continuity when a pupil is in the middle of a GCSE or A level course and a change in parental circumstances threatens withdrawal from school;
Need for special education where there is a genuine recognised learning handicap which cannot be catered for at a state school.
If you want to explore this road, the key books are The Educational Grants Directory (specifically directed at funding for schoolchildren and students in need), The Guide to the Major Trusts (in three volumes). The Directory of Grant Making Trusts and the Charities Digest. Most come out annually with a year suffix to the title, and you should be able to find one or more in your local library (if you still have a local library).
Bargain basement - cheap independent schooling options
Certain schools are relatively inexpensive. The Livery Companies, such as Haberdashers and Mercers, fund various schools, eg Haberdashers' Monmouth, Gresham's. Such schools are usually excellent value – not only cheap(er), but with good facilities.
Cheaper than many competitor schools - on account of much central buying of eg the utilities on behalf of all its schools and academies - are the Girls' Day School Trust schools. While few can claim rolling acres (the majority are in the cities) many have impressive new buildings alongside or instead of much-loved old ones and there is nothing second rate about the tuition. No male equivalent, though odd schools do take boys into their pre-preps or sixth form.
Many of the former direct grant schools - The Grammar School at Leeds, Manchester Grammar School, King Edward's Schools (Birmingham), RGS Newcastle - offer fees at the cheaper end of the scale with foundations set up to assist those who require additional help. A number of such schools have expressed an interest in offering 'needs blind' places but most will require substantial support either from the Government or via their foundations if they are to achieve this.
Hidden extras - how they add to the school fees bill
Take great care in comparing fees between schools. Some quote an all-in fee, others seem cheaper but have a load of unavoidable 'extras' that can add up to 25 per cent to the bill.
Things that you may have to add in include:
Lunches - many day schools charge for these on top.
Uniform - many schools have a flourishing secondhand shop – Eton has several.
Books - an extra in some schools.
Trips - at some schools almost all included (bar holiday expeditions); at others you will pay even for ones that are part of the curriculum. The greater likelihood, though, is that trips that are nominally optional will be socially compulsory.
Transport to and from school can be very steep indeed at some day schools.
Capital levy - usually a large, one-off impost, supposedly to pay for new buildings.
Special education (such as one-to-one aid in classroom, dyslexia support or tutoring) or EAL.
Insurance - medical, dental, personal effects...
Unusual subjects eg languages, where there are fewer than, say, four in a class.
Instrumental tuition.
Seriously hefty deposit on a firm offer of a place (£2,000 and rising in London, to try to stop well-off parents keeping their options open).
Keeping up with the Joneses In a money or status-conscious school, all sorts of possessions or expenditure may be required for a child to remain one of the in-crowd.
Paying the fees
There are any number of wizard wheezes on the market. The schools offer 'composition fees', which means, in a nutshell, you put a sum of money down one year and get a sum of money back later. The 'school fee specialists' offer endowment-backed, mortgage-backed schemes and so on which, in effect, do the same thing. Either way, you are stepping into deep waters.
Unless you totally understand what you are doing and all the implications – how the money is being invested, what the returns are, how it compares with any other investment, what the charges are, hidden and otherwise etc – we think it might be safest to avoid such schemes.
This does not mean you should not save and invest. The earlier you start, the better – obviously enough.
Scrutinise your bill carefully. We have noticed an increasing tendency to pop in items with a footnote (inertia selling) saying that 'unless you notify the school and deduct the amounts mentioned, it will automatically be charged to you'. For example, the Old Boys/Girls Society; the ISI membership, insurance, your 'contribution' to charities. Do not be shy about deducting these sums from your cheque.
Insurance needs particular care. Often policies are taken out automatically unless you say otherwise – and we know of sickness policies on offer, for example, that only pay up once the child has been ill for at least eight days, but don't pay up for illnesses lasting longer than a term. We have also heard of schools which tell parents that their child's chronic condition is covered by the policy they have paid for but which then doesn't cough up when the child misses a whole term on account of the condition.