Purchase london north
Buy The Good Schools Guide London North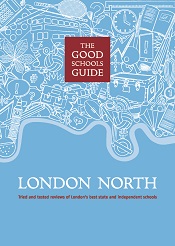 The editions of The Good Schools Guide - London North and South are now available, all entries fully revised with 2019 results.
Packed with local North London knowledge, candid reviews and parent comments, not to mention a full run-down of how the English education system works.
Only £25.00 plus p&p
"the guide regarded as the bible for middle-class school choice" The Guardian
"The volume of good independent and state schools in London makes it particularly hard for parents to find the school that perfectly meets their needs. In response to increasing demand from local and international parents, The Good Schools Guide is launching two new guides, which will provide honest, straight-talking and un-biased reviews." Evening standard
We have plundered the knowledge and experience of our South London based writers and advisers to provide not just the opinionated and unbiased school reviews for which The Good Schools Guide is renowned, but also fascinating pen portraits of the capital's diverse areas.
An invaluable guide for any family considering education in the capital.

Click to see a preview of The Good Schools Guide North London
Can't decide? North or South London...
Whether you're looking for state or independent, single sex or co-ed, selective or inclusive, south London schools remain a powerful incentive for moving there. The Good Schools Guide London South only £25.00 plus p&p