The Good Schools Guide helps parents in every aspect of choosing the best education for their children.
Unbiased and candid school reviews. In-depth articles on all aspects of education. Trusted by parents for over thirty years. Available in print, online or through our expert consultants.
No school can pay to be in the printed school guide.
We choose the schools we want to review.
We visit schools and independently write the reviews.
On this website are our reviews of 1,000+ schools, available to subscribers. We also have details of all 30,000+ schools in the UK, plus a wealth of insightful information on virtually all English schools - even if we have not visited and reviewed them.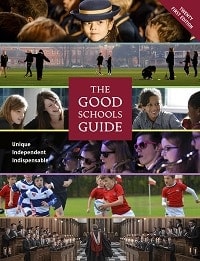 This site provides a comprehensive collection of advice and education data on state and independent schools, tutors, special needs, university choice and much more. We also offer tailor-made individual advice and support to parents as they make important decisions on school choices (see The Good Schools Guide Education Consultants). The Good Schools Guide is independent, forthright, well-informed and unbiased, which gives it unique authority and has earned the trust of parents and educational organisations worldwide.
How we select the schools we review
We review more than 1,000 schools, covering state and independent, boarding and day, mainstream and special sectors. If a school is not reviewed in The Guide this does not necessarily mean it is not a good school – our selection is a personal one. In any event, we are in the process of gently expanding our coverage to include more good local schools. If you know of one that we have missed, or have got wrong, please tell us: it's parents like you who have made The Guide as good as it is.
Visiting schools
We have visited all the schools that have reviews (mostly these days we are welcomed, sometimes we have to go in disguise) - some of them many times over since we were first published in 1986.
We have a team of local writers who bring us news and views from all over Britain, and help us find the good schools that only they and their neighbours know about.
Visiting is, of course, only a start. We also spend many happy hours talking to pupils, staff, heads, educationalists of all sorts, matrons – even the school dog.
Most importantly, we listen to you, the parents.
Why the reviews are respected
Our write-ups are intended to be portraits of the schools, not inventories of their assets and achievements. The schools' prospectuses and their websites are the best sources of the factual background – or would be if the schools' marketing departments had not got at so many of them. The Good Schools Guide reviews are written by us, based on our visits and research. If you are a subscriber to the Good Schools Guide online, you can read the reviews of those schools we cover by simply logging in (subscriptions are activated automatically and within minutes of purchase, so if you're in a hurry, subscribe now). We list all state and independent schools in the UK, and carries a wealth of publicly available information on many; you can also click straight through from our site to the schools' websites – some of them are excellent.
One man's meat...
This is a GOOD school guide, but what's good for one child may be useless for another; what is one parent's dream may turn another sick with horror. We try not to impose our own views of what a school should be like, but rather to be guided by what the parents who like a school like about it, and to write our descriptions from their point of view. So read between the lines.
How you can help
We would like to know what you think of the schools that you know. All information is gratefully received - no detail too slight to mention; suggestions for schools to be included in future editions are always welcome. You can comment openly on any school: there's a comment button on each school's page, if that suits you - it makes life easier for use (you need to be logged in to do this; registration is free) but we welcome your views by email, letter or telephone - contact details below.
And more
When we started, league tables were mainly the preserve of soccer teams; now they're the one thing guaranteed to spark a heated debate at supper parties: St Sinks soars, Hoity Toity High plummets... How? Why?
This site offers detailed analysis of exam results of ALL English schools with published data. You can draw up a list of schools to compare by exam, subject and leavers' destinations – and check our maps to see which catchment areas are likely to include your house.
The Good Schools Guide: don't choose a school or buy a house without it.
Contact us on:
[email protected]
Tel: +44 (0)203 286 6824
The Good Schools Guide, 10 Greycoat Place, London SW1P 1SB