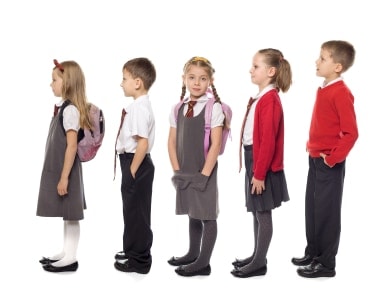 The first rule of a primary school appeal is to avoid it all costs. That means being clued up about the schools in your area, and applying the right tactics when you fill in the application form.
Unfortunately parents – especially those applying to schools for the first time – can be misled by the literature they are given by local authorities, inviting them to choose schools and place them in order of preference.
The harsh reality – especially if you live in a crowded city – is that in all likelihood you have very little real choice in the school your child can go to, once distance, catchment areas, faith requirements and so on are taken into account.
School admissions criteria
Before filling in your application form, it is essential to study the admissions criteria of the schools you like the look of. If you do not meet one of the first few criteria bands, you are most unlikely to get a place. Schools will outline the order in which they will select children for a place, and a typical set might be: (1) Children with special needs; (2) Children with siblings already in the school; (3) Children whose families subscribe to a particular faith/are regular church goers; (4) Children who live closest to the school. They may be placed in a different order, or there may be different categories. The important thing to remember is that they will vary between schools, and it is crucial to know how you will fare at that particular school.
You must therefore fill in the form according to those you stand a good chance of meeting the admissions criteria for. If instead you rank only those you most like, you may well get a place at none of them, and the local authority will allocate a school instead (which will inevitably be an unpopular and undersubscribed school).
It then further confuses parents because when you are offered a school you have not chosen, you are invited to appeal and informed of your rights. But in reality you have little chance of success at appeal for a reception place in particular. Local authorities have a duty only to provide a place at a school, not at a school of your choosing.
Infant class size legislation
Class sizes in reception/KS1 are restricted to 30 under infant class size legislation, which means it is nigh on impossible to win an appeal for these years. There are a few exceptions under which the top limit of 30 can be broken. These include cases where a child is admitted outside the normal admissions round in the following circumstances: A child with an EHCP (Education, Health and Care Plan relating to special needs and disability); children moving into the area when there is no other available school within reasonable distance; and children in care. It can also be breached when a mistake has been made and a child ought to have gained a place; or when a child with special educational needs spends part of his or her time in a special school or specials needs unit.
Grounds for primary school appeals
In the normal admissions round, you can only win an infant class appeal on legal grounds. That means you must prove that the admissions criteria are in themselves illegal, because they contravene the School Admissions Code.
Or, you might be able to show that they have been applied incorrectly (eg the distance from your house has not been measured accurately – again you need to look carefully at their policy, as some will take an 'as the crow flies' measurement, and others will measure the shortest walking distance). The cut off distance will vary from year to year according to the number of applications, so even if your neighbour's child got in last year, it doesn't mean yours will be a shoe-in.
The other grounds for appeal are that the decision to refuse admission 'was not one which a reasonable admission authority would have made'. Again this confuses parents, because the 'reasonable' here means in a legal sense, ie that their admissions decision was 'perverse', 'outrageous', or defies logic or accepted moral standards.
Every year we hear from families who feel they have a case because the decision seems unreasonable – such as one parent who had three children placed in three different schools. How could she be at three school gates at the same time? Even this did not allow her to win an appeal. Other common circumstances which cannot be seen as grounds for an infant school appeal are where the chosen school fits with the parent's commuting journey; or where shared child care arrangements mean you really need your child to be at the same school as a friend's; or where the catchment school has a terrible Ofsted, and parents want one with a better reputation. (There are different rules for secondary applications, see our separate article.)
What if you are unhappy with an allocated primary school?
If you are given a school you are unhappy with, and do not have any legal grounds to appeal on, you should get on the waiting list for any school which you would prefer.
You should also go and see this school, if you haven't already. You may just be pleasantly surprised. Sometimes a school which has had a bad reputation may be turning around under a new head.
Get as involved with the school as you are able. If you have any time during the school day, volunteer to hear children read or help out with messy activities or on school trips. You will be benefitting your child, and may be reassured by seeing a lot of good work going on.
And remember, the biggest contribution you can make to your child's education is what you do with them yourself. Spending time reading with them, taking them out to interesting places, talking with your child, keeping them stocked up with library books – all of this can go a long way to counteract a less than perfect school.