42C2C9E
Concord College


Acton Burnell Hall


Shrewsbury




Shropshire




SY5 7PF



Head: Mr Neil Hawkins
T

01694 731631

F 01694 731389

A mainstream independent school for pupils aged from 13 to 18

Boarding: Yes
Local authority:

Shropshire

Pupils: 550
Religion: None
Fees: Day £13,500; Boarding £36,000 pa
ISI report: View the ISI report
What
The Good Schools Guide

says..

Engaging, warm and welcoming, with a bubbling sense of humour and an air of inner calm, Mr Hawkins clearly delights in being at Concord - 'As a historian, it is wonderful. Look out there. Over to the right the castle and to the left the Parliamentary Barn'. The parent of a local girl, who had turned down the offer of a scholarship from a nearby public school, told us that her daughter was ecstatically happy and had grown immeasurably in confidence. Sport is offered as a recreation, not a religion. That's not to say no interest....
What the school says...
Concord College is an international boarding school with superb facilities and a very powerful work ethic. Concord College is fully committed to the development of the self-confidence of the individual student and their talents. It aims to educate students to be highly successful and well-rounded young people who are ready for the next stage of their lives. ...Read more
Thank the school
Parents and pupils often have cause to acknowledge the help and support they have received from their schools, for example in helping in the choice of further education or careers. "Say thank you" allows you to send a quick note of appreciation to the school in general or to an individual teacher.
---
This is a thank you to your school, teacher or careers adviser who helped you to get where you are now.
Please fill in the fields below, which we will transform into a letter of thanks from you to them.
What The Good Schools Guide says
Principal
Since 2005, Mr Neil Hawkins MA (40s). An experienced schoolmaster, whose former jobs include head of history at Sevenoaks, where he also coached cricket. Immediately before joining Concord he was director of studies at The Leys School, Cambridge. A graduate of the university there, he read history and, even more importantly, 'saw this lovely lady during the first lecture I attended and invited her back to my rooms for tea afterwards'. The lovely lady, Vanessa, now Mrs Hawkins, keeps an eye on the girls' welfare and teaches geography. Students we spoke to described her in the same words as her husband had used.

Engaging, warm and welcoming, with a bubbling sense of humour and an air of inner calm, Mr Hawkins clearly delights in being at Concord - 'As a historian, it is wonderful. Look out there. Over to the right the castle and to the left the Parliamentary Barn'. As principal, he talks with infectious enthusiasm about the students, the staff and the whole set up, cheerfully and convincingly dealing with common misconceptions of the college.

'He really cares about us,' said a student. 'He knows our names, comes into lunch every day and asks us how we're getting on and he listens to our answers. That is why so many student-led initiatives are implemented.' 'He certainly has his finger on the pulse,' said one parent. The right man for the job, and during his reign the college has gone from strength to strength.
Academic matters
The very smart coffee table prospectus - brochure might be a better word - has eye-watering pictures of the beauty of the setting, the excellent facilities and, prominently, masses of statistics. So, too, does the website, so rather than make this entry read like a company report, we highlight unique features. The impressive statistics are freely available elsewhere.

To an extent the school owes its continuing success to statistics. It is, after all, an international school. Parents and children living abroad and searching for the 'best schools' are bound to look closely at league tables and take note. Older, more distinguished, schools may rely on their historical reputation and the perceived social advantages that go with them, but affluent parents from abroad - and 85 per cent of the students are from overseas - are pragmatic in their approach and will go for what appears in those ghastly league tables. Above all, they want to see results, and where better than in those league tables? Concord, not surprisingly, trumpets theirs. In terms of results they are hugely successful, regularly up in the top five of co-educational schools, out-punching many public schools in Shropshire and beyond. 'But,' says the principal, 'I always tell prospective parents and pupils we're not a crammer. We offer so much more.'

And here's the interesting thing about Concord's success compared with so many traditional schools jostling for position in the market place. It uses its results (78 per cent A*/A grades at A level in 2016, and 81 per cent A*/A at GCSE) as an initial attraction and then displays its full range of wares; many other schools display their wares first and then speak quietly, sometimes rather defensively, about their results. Both approaches can stimulate doubts. Visitors to Concord may have them allayed.

In the sixth form students choose to study either three or four subjects to A level. Unsurprisingly, maths and sciences are the most popular subjects, but the principal has been keen to broaden the academic scope to include European languages, history and geography. He cites two Oxford PPE students and a Cambridge historian in recent years, along with other Oxbridge successes. Clearly such possibilities exist, though the humanities at A level are unlikely outstrip maths and the sciences.

The lower school has expanded to over 150 pupils, including a number of local day pupils, some of them from nearby prep schools. The parent of a local girl, who had turned down the offer of a scholarship from a nearby public school, told us that her daughter was ecstatically happy and had grown immeasurably in confidence. 'The best thing we ever did was to send our daughter to Concord, the first school she has ever attended where she has been really happy.' One prep school head we spoke to was full of the praise for Concord's 'delightful' pupils and the amazing facilities.

We had a fascinating series of tours into specific areas of the school, all conducted by different groups of students from the junior to those in their last years. So we were able to talk in depth with some 16 students. They were uniformly open and fresh in their enthusiasm for talking about their school and clearly immensely happy. Not the faintest whiff of arrogance, cynicism or world weariness. Impossible to winkle out a serious complaint and no, the principal had not bribed them. What emerged, with a strength which might surprise some, is that it is 'cool to be clever and to work hard'. Nothing conceited about this, no smugness about recognising they had academic talents, no hint of intellectual superciliousness. They just seemed to delight in their talents and the opportunities to exercise them.

Just as well - academic study is unashamedly and vigorously promoted as the most important aspect of the college. Every Saturday morning students in year 10 and above sit internal tests to give them as much preparation as possible for the public examinations. Some may gasp in horror, muttering 'crammer, crammer', but it does not seem to the students to be force-feeding. One very impressive girl told us it was just to ensure they were 'conceptually sound' - a memorable phrase. This was the same girl, incidentally, who told us, 'I chose to come to Concord because my school in Singapore was too relentlessly academic.' We asked about the pressure to perform well in these and the public exams. 'The pressure does not come so much from the teachers', we were told. 'We are disappointed with ourselves if we do badly.' So is it self-imposed pressure? The boy we asked just chuckled - it was obviously a silly question.

It is sometimes suggested, and some league tables seem to confirm it, that confronted with bright, dedicated girls, boys tend to shrug their shoulders and switch off. Not so here, it would seem. The boys we met and witnessed were perfectly happy to admit how keen they were to do well. It is interesting to note that the boys sometimes outperform the girls.
Games, options, the arts
One of the frequently repeated criticisms that circulate in Shropshire and beyond is that Concord has impressive facilities for sport but no-one uses them. The few football teams perform reasonably well in local leagues; rugby is on the decline. Sport is offered as a recreation, not a religion. That's not to say no interest. One boy told us that when a football match is on the television in the senior school common room (the West End), a visitor might think that Concord was a girls' school - not a boy to be seen (all watching the game). Squash and basketball flourish - we were shown the results of a three-figure thrashing the latter team dished out to a famous local public school; archery, badminton, tennis, athletics, water-polo, fencing, riding, climbing and mountain biking are on offer, with some county players. A huge and impressive sports hall, but really enthusiastic games players should look elsewhere. Lower sixth form students must now attend some physical fitness sessions - mens sana in corpore sano is not completely ignored.

Over the years the school has spread out to include some or much of the village of Acton Burnell, and there in the attractive village is one of the jewels in the Concord crown: the art building. This has no architectural merit at all beyond being functional - the jewels are kept inside, where we saw some inspirational work completed and in progress. Evidence of much imaginative and creative work in textiles, ceramics, photography, painting and graphics. Art is increasingly popular, partly because 'It uses another part of your brain and needs a different sort of concentration', partly because an increasing number of students want to go on to study architecture and, every bit as popular a reason, because it is fun.

Wonderful, wonderful music school, with as good a concert hall as any we have seen. Now well over 100 students take music lessons and more than 60 sing in the choir. A student recently won the Shropshire Concerto competition and for the last two years over 200 students have been involved in charitable fundraising concerts. We were lucky enough to attend an evening concert, which was memorable not just for the high standard of the singing and playing (by all ages), but also for the obvious enjoyment shared by participants and audience alike. A short and entertaining play followed, written and produced by a student. We've seen slicker productions, but it was performed with huge intelligence and zest.

The philosophy club is hugely popular, as are Scrabble, bridge, international societies, charity club, Outreach (voluntary work) and the choir. One Eastern European boy told us, 'In my country, if something is voluntary we run out of the door and into the street. Here I am interested and I go, perhaps because it is voluntary.'
Boarders
The 17 boarding houses, some in the village just beyond the school gates, are comfortable and well laid out; the houseparents are warmly appreciated. The superbly roomy and comfortable common room, the West End, is a popular rendezvous, encouraging school rather than cliquey house friendships and contributing to the sense of community. The food is astonishingly good and in generous proportions and variety - we know of no other school where the dining room is thickly carpeted.

A unique feature of the school is that overseas pupils can - and up to 250 do - stay on during part of the Christmas and all of the Easter holidays, as well as half term holidays, at no extra expense.
Background and atmosphere
As the principal observed, he has a beautiful view from the window of his study in the handsome 18th century building at the heart of the school campus. It is also of historical significance, since the 13th century ruined barn housed what is often referred to as the first meeting of a parliament where the Commons was seriously represented, summoned by Edward I. It gave the principal the opportunity to write that the Princess Royal in 2010 may have been the first member of the royal family to visit since 1283. T S Eliot would have delighted in the Elizabethan tomb in the parish church erected, to Sir Richard Lee, an ancestor of Robert E Lee - here, the intersection of the timeless moment.

The main house, which appears magically out of nowhere as you approach through the lanes of very rural Shropshire, was built in 1814 by a prominent Catholic family who, during the Napoleonic war, gave sanctuary to the Benedictine monks who later went on to found Ampleforth, Downside and Stoneyhurst.

Do the students know about all this history ? Well, clearly they know some. Telling us about the excitement and beauty of the fireworks display on the recent 5 November, one of them pointed to the ruined walls of the Parliament Barn and said, 'We succeeded this year.' Others volunteered how much they liked the beauty of the surroundings and the elegance of the main building - 'It does make a difference'.

Over the years, a village of new buildings has grown up around the campus, nearly all of them in keeping with their surroundings. The overall effect is aesthetically pleasing, blending in with the glorious wooded hills that back on to the house - no battle here between beauty and utility. The new, bright, fascinatingly-designed library is a necessary enlargement to the wonderful early 19th century gothic chapel which used to house the books, but now offers comfortable chairs and computers in its new role as a common room. In a room off the chapel (firmly locked) we were told there was a ghost - that is unconfirmed

The school was founded in Sussex in 1949. Nearly 25 years later it moved to its present site and four years later the college accepted girls for the first time. In 1983 it became a charitable trust with a board of trustees, and in order to attract the most able students a substantial scholarship programme was introduced. So nothing hasty about the way in which the school has evolved - no shoring up, no swift changes of direction, just steady building, in every sense.

It is an obviously happy school. Staff and students greet one with a smile of welcome and reveal themselves as friendly, easy conversationalists. Like puppies, if the analogy may be excused, they seem to know no fear but greet with an open freshness, expecting the same in return. This is clearly the result of mutual respect and affection between students and staff, where an impressive mixture of long-serving teachers and young risers. Students obviously cherish the strong sense of community. They had touching stories to tell about the warmth of the welcome they experienced on arrival for the first time - 'I was very anxious as the taxi drew up, but everyone was so kind when I went inside the building that after 10 minutes I suddenly remembered my parents were still in the car'. Another younger girl felt that their shared learning of English drew together students from varied backgrounds and languages.

They showed mutual physical respect - no jostling and shoving, no groups of no-good boyos huddling in the corner planning their next escapade, no boisterous calls, but plenty of vivacity and liveliness, natural courtesy without enforced restriction, boys and girls walking freely together.
Pastoral care, well-being and discipline
The high profile staff involvement is benign rather than military, with a lack of silly idiosyncratic school rules. None of the 20 or so students we asked could come up with any obvious bone of contention. They feel they are listened to and, in return, accept what has been arrived at, often through mutual consent. Trust is at the heart of it all. Smoking and drinking can lead to rustication and eventually expulsion; involvement with drugs leads to instant dismissal.
Pupils and parents
Past pupils remain deeply loyal to their school and frequently send their children to follow in their footsteps. Around 84 per cent of boarders are from overseas. Asians predominate, but a strong African contingent and a burgeoning number from Eastern Europe - in fact about 40 nationalities. A number of local day pupils from a variety of backgrounds has further increased the diversity.
Entrance
Day and boarding applications welcome for year 9, year 10 or year 12. The school is unashamedly selective, especially for year 12 candidates.
Exit
An impressive array of top universities. In 2016, 25 to Oxbridge, and 29 medics; the London universities next along the list, alongside Warwick, Durham, Bristol and York.
Money matters
The school is generous, though not profligate, with scholarships. Details on the website.
Our view
Those who prefer the chapel and team games approach of the traditional public school won't wish to consider Concord, as in many ways it is the antithesis. Students who seek an excellent academic grounding particularly, but not quite exclusively, in the sciences might be attracted. Those who see the future as global rather than merely western should be interested: international friendships are there for the making. A school where intellect and academia are celebrated, but not at the expense of personal happiness. It really is more than an exam factory - it could be the start of a great adventure.
Special Education Needs
Concord College strives to fully realise the potential of all of its students; the vast majority of whom are extremely able and who experience few, if any, learning difficulties. However we do have a large number of students, as an international College, who require support in English as an Additional Language (EAL). Furthermore, we have a small number of pupils who require SEN support for dyslexia or dyspraxia. This support takes the form of close monitoring and the provision of some extra classes targeting literacy and numeracy skills. Our small class sizes (averaging 1 teacher to less than 14 students last year) make regular one-to-one teacher support the norm within lessons. 10-09
| Condition | Provision for in school |
| --- | --- |
| | |
| ASD - Autistic Spectrum Disorder | |
| Aspergers | Y |
| Aspergers Syndrome [archived] | |
| Attention Deficit Hyperactivity Disorders | |
| Attention Deficit Hyperactivity Disorders [archived] | |
| CReSTeD registered for Dyslexia | |
| Delicate Medical Problems [archived] | |
| Dyscalculia | |
| Dysgraphia | |
| Dyslexia | |
| Dyspraxia | |
| English as an additional language (EAL) | |
| Epilepsy [archived] | |
| Genetic | |
| Has an entry in the Autism Services Directory | |
| Has SEN unit or class | |
| HI - Hearing Impairment | |
| Hospital School | |
| Mental health | |
| MLD - Moderate Learning Difficulty | |
| MSI - Multi-Sensory Impairment | |
| Natspec Specialist Colleges | |
| Not Applicable | |
| OTH - Other Difficulty/Disability | |
| Other SpLD - Specific Learning Difficulty | |
| PD - Physical Disability | |
| PMLD - Profound and Multiple Learning Difficulty | |
| SEMH - Social, Emotional and Mental Health | |
| SLCN - Speech, Language and Communication | |
| SLD - Severe Learning Difficulty | |
| Special facilities for Visually Impaired | |
| SpLD - Specific Learning Difficulty | |
| VI - Visual Impairment | |
---
Newsletter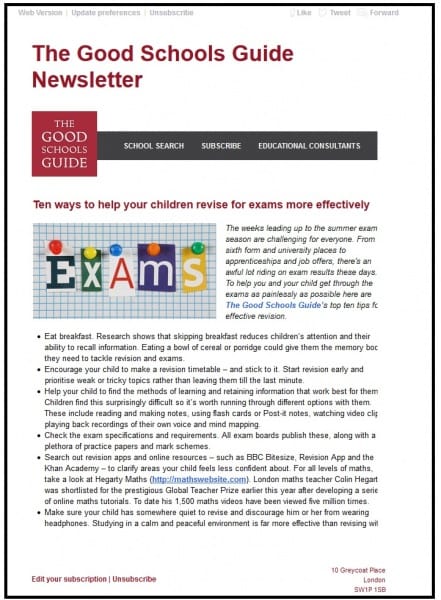 Educational insight in your inbox. Sign up for our popular newsletters.
---