65342B6
The Oratory School


Woodcote


Nr Reading




South Oxfordshire




RG8 0PJ



Head: Mr Joseph Smith
T

01491 683500

F 01491 680020

A mainstream independent school for boys aged from 11 to 18

Boarding: Yes
Local authority: Oxfordshire
Pupils: 300
Religion: Roman Catholic
Fees: Day: £16,050 - £23,700; Boarding: £21,540 - £32,595 pa
Open days: Saturday mornings in May and September/October.
ISI report: View the ISI report
Linked schools: Oratory Preparatory School
What
The Good Schools Guide

says..

Parents we spoke to had chosen The Oratory because it offered their boys an academic environment that is individually challenging without being overly competitive – along with lashings of unashamedly competitive sport. Culture more than holds its own alongside sport. Plenty of music, Schola Cantorum sings at masses, vespers and school functions and there's a variety of bands, orchestras and ensembles. Non-Catholic parents we spoke to seemed to have different perceptions of the religion's role in school life. One thought it was…
What the school says...
The Oratory is a unique school. Blessed John Henry Newman, its Founder, was a brilliant man, who synthesised two traditions: Christian pastoral care for the individual combined with academic excellence and intellectual growth. His personal motto became the schools Cor ad Cor Loquitur (Heart speaking to Heart) and this flows through the life of the school. He wanted to establish an all-round education that encouraged development of body, mind and spirit, so vital for success and happiness. Set in acres of exquisite Chiltern countryside, The Oratory is centred on a traditional English country house, giving it that family ethos for which the school has always been so well known.

A teacher: pupil ratio of 8:1 and a staff nearly all living on site or in the adjacent village reinforce this emphasis on individual attention. The Academic foundations of the school are centred around the needs of the pupil as an individual. The flexibility of our curriculum allows pupils to realise their talents and develop their interests within the framework of a sound academic base. The school maintains a rolling programme of boarding and classroom refurbishment to ensure that standards are maintained to the highest level. ...Read more
What the parents say...
No comments received for The Oratory School
Please login to post a comment.
Thank the school
Parents and pupils often have cause to acknowledge the help and support they have received from their schools, for example in helping in the choice of further education or careers. "Say thank you" allows you to send a quick note of appreciation to the school in general or to an individual teacher.
---
This is a thank you to your school, teacher or careers adviser who helped you to get where you are now.
Please fill in the fields below, which we will transform into a letter of thanks from you to them.
2015 Good Schools Guide Awards
Best performance by Boys taking Art & Design at an English Independent School (GCE A level)
Best performance by Boys taking Art & Design at an English Independent School (GCE AS level)
Excellent performance by Boys taking Art & Design at an English Independent School (GCSE)
2016 Good Schools Guide Awards
Best performance by Boys taking Art & Design at an English Independent School (GCSE Full Course)
Curricula
Cambridge Pre-U - an alternative to A levels, with all exams at the end of the two-year course.
Sports
Rowing
Shooting
What The Good Schools Guide says
Head Master
Since September 2016, Mr Joseph Smith BA PGCE MEd (40s), head of the Oratory Prep since 2010, who took over after the very brief tenure of Adrian Wyles. Son of a farmer, educated at Catholic primary school and then the local comp in King's Lynn where he says he 'achieved despite the poor education he received'. Admits he was 'rather lazy' and believes that sometimes children 'need to be compelled' to learn. (Parents say, approvingly, that he won't let pupils coast, even post CE.) He 'didn't start working until university' (studied English at Liverpool) but then something clicked and he graduated with a first. After PGCE at Brunel his first post was at Colfe's School in London, then 12 years at Monkton Combe, Bath where he was head of English and housemaster.

Likes to communicate face to face with colleagues and parents, not 'hide behind emails' – a 21st century interpretation of Cardinal Newman's motto, 'heart speaking to heart', perhaps. Parents give him the thumbs up – they say he's very visible and 'understands children'. He also seems to understand parents and endeared himself to many a father at the prep school by introducing beer to match teas.

Since moving to Oxfordshire he says he is returning to the country pursuits he was brought up with. When time allows he enjoys shooting and cooking the results. Loves dogs, has acquired a black lab (wry smile, he knows it's a headmaster cliché) and plays cricket for the village. His wife, Debbie, is the registrar and they have three children at the school. Favourite books? Sir Gawain and the Green Knight and Byron's Don Juan (well, he is an English graduate…).
Academic matters
School describes academic results as 'inching up', although this is perhaps a little too incremental for some parents. Relatively non-selective intake yields solid results at GCSE (IGCSEs now in English language and literature, French, Spanish, three sciences). In 2016, 40 per cent A*/A grades at I/GCSE. Wide choice of subjects at A level and school will accommodate single students who wish to study, for instance, Dutch, Latin, Italian. All take RI GCSE (Catholic syllabus) and subject remains compulsory in the sixth form, although it is not a public examination subject. As for A level results, leaving aside art (see below), majority achieve A to C but there's clearly still work to do on the A* front (36 per cent A*/A grades in 2016; 53 per cent A*/B). Time spent talking to the director of studies about the school's 'value added' results will add some colour and detail to the statistics. Academic high flyers certainly not held back as Russell Group and Oxbridge success attests. Sixth formers are encouraged to do the extended project qualification and have tackled subjects as diverse as military law, hotel management and Greek tragedy. There's a new head of SEN and for boys who need it there is the option of taking nine, rather than 10, GCSEs, the remaining timetable being reserved for curriculum support – thus improving final outcomes. A system of reports (quarterlies) means that any academic problems/homework issues are not allowed to slide too far. Parents we spoke to were on the whole pretty positive about this provision and felt that it would be hard for a boy to fall down any cracks. 'Our son feels secure, that the school is on his side.'

Lessons we observed were in good order: challenging, information-rich chalk and talk in A2 classical civilisation, sparky and good humoured quick-fire thinking challenges in first year English. Science labs have been refurbed but we were delighted to find boys and Bunsen burners at the original wooden benches with old burns and battle scars still visible beneath the new varnish. Usual technology seemed to be present but not dominant in labs and classrooms; library peacefully free from such modern menaces but is, apparently, soon to be networked into the 21st century.

The area is hardly undersupplied with high-achieving academic schools but these are not for everyone. Parents we spoke to had chosen The Oratory because it offered their boys an academic environment that is individually challenging without being overly competitive – along with lashings of unashamedly competitive sport. School acknowledges that the timetable might seem a little old fashioned and some parents observed that there is a certain amount of 'wasted time' post games that could be put to more profitable use. Dr GSG tentatively wonders if shaving just one or two hours a week from the time spent on corpore sano might not improve the mens sana still further.
Games, options, the arts
Let there be no mistake, this is not a school for boys who don't enjoy running around or those who raise a cynical eyebrow at competitive sport (such boys do exist). Sport is big here, pitches seemingly endless and there's nowhere to hide. Cricket is played on a glorious sward with views over the Chilterns and Thames valley and, apparently, 'the best match teas.' New £5m sports centre with 25m pool. Morning lessons and lunch are followed by two and a half hours of rugby, football, cricket, rowing, real tennis, shooting, swimming, golf and the rest (delete as appropriate according to preference/season). Sport happens every day, apart from Thursdays when it's CCF, compulsory until fifth year after which the less military minded can take part in conservation work or community service. No wonder The Oratory was crowned Sports School of the Year in recent Education Business Awards (this in addition to similar accolades in previous years). The yellow and black-hooped Oratorian rugby players are formidable foes for many opposing teams drawn from larger schools. Celebrations for the school's 150th anniversary were heightened by the 1st XV declaring an unbeaten season, as did the junior colts A and B teams. No sloping off for sixth formers either. Sport may be big, but it's also inclusive and everyone gets to play in matches whether representing school or house. We asked a number of boys what they thought about this during our visit but were met with rather blank responses. 'If you don't like rugby you can do shooting.' And boys who don't want to do rugby or shooting? 'It's probably not the right school for them,' we were told but got the impression that such boys were beyond the imagination of Oratory chaps.

And so to art. Some schools have art rooms, others may boast art departments; the Oratory says it has an art department but what it really has is a kingdom. Results in art and design subjects, both at GCSE, A level, Pre-U and foundation (yes, foundation) are in a league of their own. School has won GSG top boys' school for A level art award many times. All those taking Pre-U art and design got at least D3 (A equivalent) in 2016 and everyone who took art A level got A*. Wonderful facilities (printmaking, etching, ceramics, DT, sculpture) arranged around a gallery corridor with tomes on plinths open at pertinent pages. A professional painter gives drawing lessons or, as he describes it, 'lessons in how to look,' and boys work standing (no chairs allowed) at easels. There's a dark room too; in these days of ubiquitous cameras and instant images, all boys learn the ancient art of developing photographic prints.

Culture more than holds its own alongside sport. Plenty of music, Schola Cantorum sings at masses, vespers and school functions and there's a variety of bands, orchestras and ensembles. Popular programme of visiting speakers. The Hopkins society (named after poet Gerard Manley Hopkins who was a master at The Oratory School under Cardinal Newman in the 1860s) oversees cultural activities such as trips to the theatre and also runs a bookshop. Sixth formers debate and deliver papers on a range of topics at Windhover Society meetings (named after Hopkins' poem – nice to see the old chap getting a double look in). Drama is a popular after school option, girls are borrowed from nearby Our Lady's Abingdon or St Anne's Caversham, but as an academic subject it is perhaps more Cinderella than Fame. The new 200 seat theatre complete with the latest sound and lighting technology may inspire future thespians.
Boarders
Boarding houses we saw were in pretty good nick; there are two brand new and three refurbished. Seniors have single study bedrooms, younger boys are four to a room and occupants are mixed up every half term. Just under 10 per cent of boarders are from overseas.

St Philip house is for junior boys (11-13) and they have separate recreation, social and teaching areas as well as their own sports teams and clubs. Day boys have a locker room (and we do mean just lockers, nary a chair or poster) in each house, but perhaps they are not intended to linger here. Resident house parents, live-in tutors plus a day housemother and gappies oversee proceedings. In senior houses boys are responsible for washing and ironing their own clothes – with some assistance at first; great training for future domestic harmony we thought, but limited evidence of ironing (although the Spanish boys are apparently exemplary at this task).
Background and atmosphere
The Oratory School was founded in 1859 by Cardinal John Henry Newman. Newman, who was beatified in 2010, was a Christian thinker and educational pioneer and the school was intended as a boarding school along the lines of the English public schools ('Eton minus its wickedness') serving England's Catholic community. Newman's personal motto is also the school's: 'Cor ad cor loquitur' (Heart speaking to heart). While it remains a proudly Catholic institution the school welcomes boys of all faiths and none; the doctrine of valuing the special gifts of every individual makes The Oratory an accepting and welcoming community.

The school may be only 20 minutes' drive from Reading but enjoys, to quote Hopkins out of context (but not out of county), a 'sweet especial rural scene.' Visitors ascend a drive flanked by red maples and velvety playing fields leading to the Queen Anne style manor house, home to the school since its move from Birmingham in 1942. Grounds, all 400 acres of them, are immaculately maintained. Front of house is impressive with echoing marble foyer and arresting 'black room' (black and gold are Papal colours) used for concerts and teas. Business areas the usual confusion of scuffed corridors and unremarkable teaching rooms. Pace art department, school not lavishly decorated with boys' efforts, rather restrained, formal atmosphere prevails – but our visit was at the start of term.
Pastoral care, well-being and discipline
Sensible rules re use of laptops, mobiles, social networking sites. Junior chapel is in a rather charming former tithe barn, senior chapel is a slightly less inspiring modernish building. Daily prayers in houses, weekly assembly for all; Sunday evening mass for all boarders, optional for day boys. Non-Catholic parents we spoke to seemed to have different perceptions of the religion's role in school life. One thought it was a dominant (dominating) feature; another didn't think it impinged too much on their boy's school day. All participate in the spiritual life of the school and Catholic and non-Catholic boys serve at mass.

Not much in the way of transgression: one imagines exhaustion may be a contributory factor (the school's mantra is 'a busy boy is a happy boy'); three hours of games every day plus weekend matches and evening activities such as circuit training must take the edge off boyish over-exuberance. In those cases where it doesn't, standard regime of detentions is called into play. Exonerated in a recent case where a housemistress sued the school for unfair dismissal - though the case did reveal some extremely unsavoury behaviour amongst one or two boys. After matches on Saturday boarders can go into Reading; some parents felt older boys left a little too much to their own devices on these trips. Houses have cinema and steak nights, pool competitions etc and there are socials with girls from Queen Anne's Caversham and St George's Ascot as well as ballroom dancing for the lower sixth – culminating in a ball held at Queen Anne's.

Our guides thought the food was 'excellent'. 'There's loads of it. It's boy food,' they said. So, anyone for seconds of slugs, snails and puppy dogs' tails? Breakfasts came in for especial praise: 'you can have cereal and then the works, every day'. Boarders can supplement with toast, pot noodles etc from the kitchens on each floor. Newly formed food council has managed to get Cocoa Pops onto the breakfast menu but on the whole one feels that the school is closer to benign dictatorship than democracy. The school day officially ends at 7pm after prep but day boys may question the logic of going home; some live up to an hour's drive away and there's no bus service. Parents advise packing provisions for pick up at 7pm because supper is not provided for day boys (although those staying on for other activities get supper and it's not billed). Boys can stay overnight if they are involved in evening activities but we have also heard that some GCSE options necessitate staying in school until 9pm. Boarding numbers certainly increase in the upper years, pragmatism triumphing over home comforts perhaps.
Pupils and parents
The old fashioned certainties are all present and correct here. Boys are confident, smart, polite and look you in the eye. RC and non-RC – all religions welcome. Day and flexi-boarding pupils come from Reading and South Oxfordshire villages. Boarding is a cosmopolitan mix of UK boys, those from European Catholic families (Spain in particular, some for just one year) and Russians; fewer Chinese boys than at other places. No parents' association but plenty of opportunities for fraternisation at matches etc.
Entrance
At 11 by English, maths and non-verbal reasoning exams plus informal interview; at 13, CE pass at around 55 per cent required plus head's report from previous school and interview. Numbers from nearly Oratory Prep. Special consideration will be given to brothers of boys already in school and the sons of old boys. Five C grades at GCSE minimum entry to sixth form.
Exit
In 2016 destinations ranged from chemical engineering at Bath to classics at Durham.
Money matters
Scholarships and exhibitions up to half fees available: academic, art, music, sport and all-rounder. Generous bursaries. Extra charges for specialist sports coaching eg golf, real tennis, books, trips, laundry and haircuts.
Our view
One of a kind. Go and explore, meet the head, chat to the boys – we doubt you will be undecided by the end of your visit. If you have an exuberant, energetic boy with an artistic bent this could be the perfect match.
Special Education Needs
A small team of specialist teachers withdraw pupils on a one-to-one basis mainly for specific learning difficulties.
| Condition | Provision for in school |
| --- | --- |
| ASD - Autistic Spectrum Disorder | |
| Aspergers | Y |
| Attention Deficit Hyperactivity Disorders | Y |
| CReSTeD registered for Dyslexia | |
| Dyscalculia | |
| Dysgraphia | |
| Dyslexia | |
| Dyspraxia | |
| English as an additional language (EAL) | |
| Genetic | |
| Has an entry in the Autism Services Directory | |
| Has SEN unit or class | |
| HI - Hearing Impairment | |
| Hospital School | |
| Mental health | |
| MLD - Moderate Learning Difficulty | |
| MSI - Multi-Sensory Impairment | |
| Natspec Specialist Colleges | |
| Not Applicable | |
| OTH - Other Difficulty/Disability | |
| Other SpLD - Specific Learning Difficulty | |
| PD - Physical Disability | |
| PMLD - Profound and Multiple Learning Difficulty | |
| SEMH - Social, Emotional and Mental Health | |
| SLCN - Speech, Language and Communication | |
| SLD - Severe Learning Difficulty | |
| Special facilities for Visually Impaired | |
| SpLD - Specific Learning Difficulty | |
| VI - Visual Impairment | |
---
Newsletter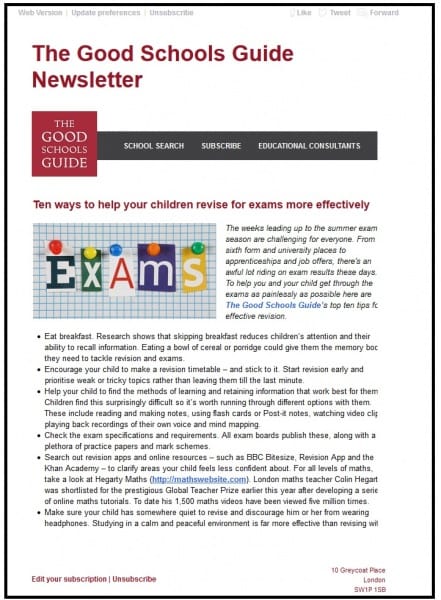 Educational insight in your inbox. Sign up for our popular newsletters.
Best practice - our expert tips to help your child with exam revision
---