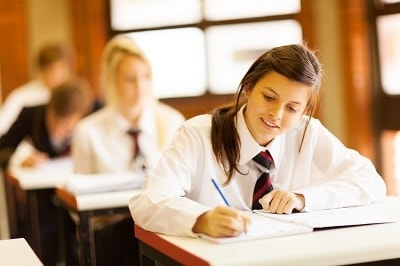 State grammar schools are permitted to select pupils by ability. Children are usually tested in the final year of primary school (aged 10/11), by an exam commonly known as the 11+. A few schools test for entry at 13+, and many re-open their books at 16+. Some grammar schools now give preference to qualifying children on Pupil Premium.
Entry is possible at other times if places are available and the child meets the academic criteria. However, grammar schools do not have to take pupils that fail to make the grade, even if they are not full.
What's in the entry tests?
Tests usually include some or all of maths, English, verbal reasoning and non-verbal reasoning; however, the exact entry requirements and competition for places vary, so do check with the school to ensure you have the most up-to-date information. Entry requirements can change year on year. NB Grammar schools now have to run at least the first round of tests in time to give initial results before other state school application deadlines, so parents know whether or not to include the grammar school on their list. This means that many have a registration deadline in the summer term of year 5 and run tests in September.
What's the competition like?
In The Good Schools Guide review of Tonbridge Grammar School we write:
Entrance via the Kent Test at 11+ in verbal, non-verbal reasoning and maths administered by Kent County Council and places are hard fought. No allowance made for siblings. No catchment area but most fairly local and proximity to the school taken into account where there are two girls of equal ability. A minimum of 35 'Governors' places' reserved for able pupils from outside the area but same criteria apply as for Kent selection.
Queen Elizabeth's School, Barnet, we report:
More than 2,300 boys apply for 180 places. Tests in September, which although tough, are made as comfortable as possible, with year 9s present to put applicants at ease, 'including playing hangman'. Boys told whether or not they have met the 'standard required' before they have to make their choice of schools, so they have nothing to lose by taking the test. NB Meeting the 'standard required' does not guarantee a place.
No sixth form entry for external candidates. 'I see this as a seven-year education,' says head, who adds that he's seen too many schools that take external sixth-formers essentially run as two separate schools. Automatic transfer to sixth form for nearly all students, although pupils have to be recommended for individual subjects.
Will a tutor help?
With such competition for places it will come as no surprise that, despite the schools' reassurances, it is becoming increasingly difficult to find children who haven't received some coaching.
The type and quantity of tuition varies: some children receive a little extra help to ensure they understand the way questions are presented; others are carefully coached from a tender age - not just in the three Rs but in the nuances of verbal and non-verbal reasoning and other tests which, ironically, are ostensibly designed because they 'cannot be coached for'.
Optimise your chance of success when applying to a grammar school, speak to a school expert consultant today. Phone 020 3286 6824 or email consultants@goodschoolsguide.co.uk
< FINDING A STATE GRAMMAR SCHOOL (1/5) GRAMMAR SCHOOLS - A BRIEF HISTORY (3/5) >