Counties such as Kent or Buckinghamshire are 'selective authorities' and most families will have at least one grammar school close to where they live. Elsewhere, for example in Reading or Kingston-on-Thames, there are just one or two grammar schools and competition for places at these is ferocious.
How to find a state grammar school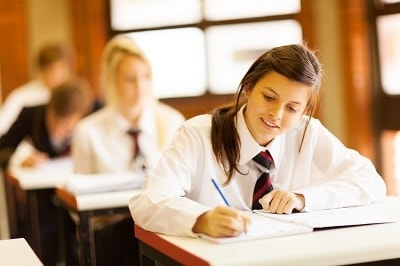 Grammar schools are located in 36 English local authorities. Almost half of these are considered 'selective authorities' (eg Kent and Buckinghamshire), where around one in five local children are selected for grammar school entry based on ability. The others are areas such as Barnet or Kingston, with only a few grammar schools.
A word of warning: not all selective grammar schools have 'grammar' in their name. Bournemouth School and Dr Challoner's High School are just two examples. Likewise, many schools with grammar in their name are actually fee-paying independent schools (Bradford Grammar School and Bristol Grammar School for example).
Do you have to live in a grammar school area?
You don't necessarily have to live in an area with state grammar schools to gain a place at one. Some schools will recruit from beyond their home authority, while others, such as Ripon Grammar School, offer boarding facilities for children with an identified 'boarding need.' However, the majority now give preference to those living in defined catchment areas, or within reasonable commuting distance of the school, with distance often used as a tie-break.
Optimise your chance of success when applying to a grammar school, speak to a school expert consultant today. Phone 020 3286 6824 or email consultants@goodschoolsguide.co.uk
GRAMMAR SCHOOL ADMISSIONS (2/5) >
---
Further reading
Best added value grammar schools
Choosing a school - thoughts for parents
Grammar schools – are they really what's needed?