4A46660
Godolphin, Salisbury


Milford Hill


Salisbury




Wiltshire




SP1 2RA



Head: Mrs Emma Hattersley
T

01722 430509

F 01722 430501

A mainstream independent school for girls aged from 2 to 18

Boarding: Yes
Local authority:

Wiltshire

Pupils: 355
Religion: Christian
Fees: Day £6,537 - £19,515; Boarding £17,001 - £32,304 pa
Open days: Snapshot Mornings run throught the year. For more information please contact the Registrar
ISI report: View the ISI report
Linked schools: Godolphin Preparatory School
What
The Good Schools Guide

says..

Our allocated guides were, not surprisingly, slightly reluctant to leave a science class in which they were planning sports events taking account of the conditions of planets other than the earth. However they waxed lyrical over the pet's corner, were warmly welcomed by Sister Gill and clearly loved every bit of the school. Art has a huge and impressive building bursting with stunning work in every medium and hugely talented and enthusiastic staff. Very professional looking fabric design work on display as well as fascinating mixed media landscape work and spectacular studies based on work done in the cathedral....
What the school says...
Godolphin introduces bespoke boarding packages, which offer's boarding to girls from nine to eighteen, in three phases - Junior, Senior and Sixth. These are built around flexibility and enrichment. Whilst traditionally a full boarding school, there are flexi boarding options available, and a full and exciting Enrichment Programme with activities, clubs and socities ranging from Silver Jewellery making to Classical Greek. ...Read more
Thank the school
Parents and pupils often have cause to acknowledge the help and support they have received from their schools, for example in helping in the choice of further education or careers. "Say thank you" allows you to send a quick note of appreciation to the school in general or to an individual teacher.
---
This is a thank you to your school, teacher or careers adviser who helped you to get where you are now.
Please fill in the fields below, which we will transform into a letter of thanks from you to them.
2015 Good Schools Guide Awards
Best performance by Girls taking Art & Design at an English Independent School (GCE A level)
2016 Good Schools Guide Awards
Best performance by Girls taking Music Performance: Group at an English Independent School (Grade 6 Music or Dance)
Best performance by Girls taking Design & Technology Food Technology at an English Independent School (GCSE Full Course)
Other features
All-through school (for example 3-18 years). - An all-through school covers junior and senior education. It may start at 3 or 4, or later, and continue through to 16 or 18. Some all-through schools set exams at 11 or 13 that pupils must pass to move on.
What The Good Schools Guide says
Headmistress
Since 2014, Mrs Emma Hattersley, previously deputy head, pastoral, at Sherborne Girls, before which she was a housemistress at Canford School. Mrs Hattersley trained as an opera singer at the Royal Academy of Music and has a music degree from Durham. Married with three children, she says she took her career break early so that now, in her early 50s, with her children pursuing their own careers, she is able to devote her time entirely to Godolphin. Her actor husband is immensely supportive, to the extent of running 'speakeasy' communications and other workshops in school.

Her calm, unthreatening exterior deceptively understates the determination beneath. Since arriving at Godolphin she says she has identified needs for brightening up areas of the fabric, developing staff and increasing opportunities for charitable activities. In fact she has already started on a programme of new showers, 'nice enough to make the girls feel good', surveyed parents of all leavers, consulted girls and produced her vision document for the future. She has also initiated the Elizabeth Godolphin Award for sixth formers, which gives focus to a programme of self-development and preparedness for work/life demands.

She says she believes in the Godolphin ethos: happiness, warmth, development which is aspirational but 'absolutely not at the expense of well-being'. 'We are not a hothouse' she says, but aim at 'the best we can possibly be in each girl's own style, celebrating diverse talent' and encouraging everyone to 'succeed at the level right for them'. Having taken on a school a little stunned by losing its new head to 'higher things' after three years, she has restored confidence and won parents' and girls' respect with her ability to perceive and develop what is best at Godolphin. A parent commented that 'under Mrs Hattersley staff can really develop their own teaching and pastoral skills.'

Head of prep since 2014, Julia Miller BA MEd (50s). Having studied history at Queen's University Belfast, followed by a PGCE, she taught at Banbridge Academy, Victoria College and Cheltenham Ladies' College (where she ran D of E and was a deputy housemistress). Head of history and head of house at Godolphin, she was appointed head of the prep after 22 years at the school. She clearly loves it and puts huge enthusiasm and kindness into her dealings with children. Her interests include 16th-20th century history, (she still keeps her hand in in the senior school A level course), 20th century historical novels, travel and gardening. Godolphin Prep girls are encouraged to support the local Chalke Valley History Festival.
Academic matters
The junior school prides itself on good, solid traditional teaching all round, 'the national curriculum plus a bit more'. Maths is solid, reinforced by clubs in lunch breaks and 'mathletics' programmes on school computers in ICT room. 'Girls have to write every day and put their skills into practice'. French begins in the nursery at 3 and continues throughout; Spanish and German introduced in year 6. Latin, Greek and science after-school clubs; reasoning group provides extra practice for those aiming for 11+. Nice light library perches on a mezzanine floor above main hall in which on the day we visited the evening's exciting art exhibition was going up competing with some extremely sophisticated rhythmic clapping from a music class. Small class sizes (12 on average), with some really enterprising teaching and a few new teachers including some men. Our allocated guides were, not surprisingly, slightly reluctant to leave a science class in which they were planning sports events taking account of the conditions of planets other than the earth. However they waxed lyrical over the pet's corner, were warmly welcomed by Sister Gill and clearly loved every bit of the school.

One pretty expert parent commented that school's learning support teacher is 'wonderful', championing girls' needs, liaising with staff (even the slightly wary ones) and exceptionally well qualified with an impressive array of degrees in psychology and special needs education. This is a school that fits the style of teaching to the child.

Definitely academic, with Latin up to A level and Greek on offer, though not taken up much for exams. Spanish, German and French also on offer though with a few following through to A level. Spectacular results in maths and art at both A level and GCSE. Other results certainly respectable, with 47 per cent A*/A at A level in 2016 and 68 per cent A*/A at GCSE. Results have been slightly less stellar since 2013, when the boards tightened up on top grades, but the latest results show that the top tranche of really able girls can achieve a sheaf of four A and A* grades at Godolphin.

French, German, Spanish and Latin taught from first year with Mandarin via a club. All available up to A level except currently Latin, and classical Greek done at GCSE via an 'Academic Society', Girls do either double award science or three individual subjects. The usual subjects are offered plus PE, design and food technology, economics, business studies and drama. Godolphin will put on an A level course for one or two students if necessary, so there's not much you can't do, and options are designed round each girl's requests every year. There is a real buzz of enthusiasm from girls and teachers with excitement about geology coming on-stream as an A level next year. Parents are enthusiastic about the level of encouragement and individual attention given by teachers. One commented that teachers support girls' particular interests by finding articles and information for them even if it is outside the curriculum. Able girls enjoy events put on by the scholars and 'Alpinists' (Accelerated Learning Programme) activities, though sometimes the compulsory ones are 'a bit groan-worthy'. Girls say most are really interesting and attract lots of non-scholars too. The REBEL (Recreational Enhancement for Bright Energetic Learners) scheme provides appreciated stimulus for year 9.

The few SEN students have plenty of help organised by SENCo/ed psych much praised by parents. Help is one-to-one, in groups, or takes the form of advice to teachers about learning styles of individuals. EAL is managed by SEN department – up to three lessons a week if necessary. Not many pupils need support, but advice to teachers is available from occupational therapist and maths specialist. Godolphin can cope with mild Asperger's. Healthy, friendly respect and affection between teachers and girls abundantly evident.
Games, options, the arts
Art has a huge and impressive building bursting with stunning work in every medium and hugely talented and enthusiastic staff. Very professional looking fabric design work on display as well as fascinating mixed media landscape work and spectacular studies based on work done in the cathedral. Two spacious studios for drawing/painting, with separate rooms dedicated to textiles, ceramics, photography and 3D; another smaller room full of iMacs for graphic design. This a truly brilliant department, making creative use of visits to and by local artists, who regularly initiate GCSE projects, and welcoming parents and visitors to view two floors of really breathtakingly exciting work – smashing results too. DT is no less impressive, with lots of colourful and innovative constructions in wood and plastic on display. It's not surprising academically gifted girls take up art or history of art here and a record number go on to art related courses at uni. Lucky prep girls also have lessons in the amazing senior art block, where the staff are passionate about encouraging art from the beginning, teaching painting, drawing, ceramics and textiles.

An attractive rotunda houses the performing arts centre with lovely in-the-round theatre, plenty of entertaining space and good practice rooms. Music is very well served, with the head running a popular junior orchestra of girls from prep and senior schools, a head of music who is as encouraging as he is talented, and the meticulous Mrs Sparkhall, who inspires the girls in a choral tradition that wins them the Barnardo's School Choir of the Year and other accolades. Individual lessons still in the unprepossessing and unreconstructed Rose Villa, but pupils and parents don't seem to mind and there's plenty of chamber music, though not much evidence of pop...Instrumental music flourishes in the prep too, especially now there is a joint senior/junior orchestra. One parent was delighted that her daughter suddenly stopped complaining about orchestra practice. Music is even scheduled for tinies in the nursery. All instrumentalists perform in their own annual concert. Occasional workshops take place with visiting musicians. Lots of obviously enjoyable music – enthusiastic rhythmic clapping happening during our visit. Choir has performed at the Bath Festival and Barbican Centre and regularly joins the senior choir to sing in Salisbury Cathedral. Unusual music theory club open to years 1 to 6; girls regularly pass ABRSM theory of music exams up to grade 2.

All the creative forces come together in drama, typified by recent Oklahoma – spectacular and full of home-grown music and dance. Girls also perform with Portal Theatre, a small, professionally run theatre group. Masses of LAMDA exams and smaller performances.

Lacrosse dominates amongst a total of 90 different teams covering all the usual girls' winter and summer sports. Netball actually fields 23 teams, and tennis 14 teams as well as teams in all the major girls' school sports – quite a feat for a smallish school. All sports reach a pretty high level considering the school's size, swimming aided by a sleek 25 metre indoor pool. Highly competitive equestrian stars, and lacrosse and netball high fliers get to county and regional teams. Achievements include equestrians getting into top three at Windsor Horse Show, U13 netball team winning county championships and one girl selected for England U18 lacrosse squad. One hockey lover's parent commented that perhaps it came second best to lacrosse, but acknowledged that there is plenty of opportunity, even so. No lack of outdoor and other related activities. One girl reported enthusiastically on taking part in the Dartmoor Ten Tors expedition after thorough training through CCF (quite unusual in a girls' school).

Three double games lessons each week for juniors, using the senior school's grass pitches and hard courts. Gymnastics for all, lacrosse is introduced in year 5. Until then the main team sports are hockey and netball. Swimming excels with a terrific programme in which all girls swim amazing distances winning handfuls of ASA awards. Everyone swims each week (including for nursery-age children) in fabulous 25-metre swimming pool; the best swimmers are invited to join a competitive swimming squad after school. Extracurricular clubs include kick boxing and yoga; in summer, girls can choose tennis and rounders at break and after school and riders can join senior school equestrian teams.
Boarders
Girls can start boarding from 7 or 8 in the prep, when they join the junior house. Boarding is about as flexi as it goes, with everything from full time to weekly to flexi (one or more nights per week). One parent commented that though full boarding had been ideal for her daughter because they were not too far away, it tends to focus a bit much on activities for foreign students. Current flexibility is dependent on there being some beds available.

Boarders in years 3, 4, 5 and 6 are housed on separate floor in Walters House, which takes the first years of the senior school. This looks like a bit of a compromise because of small prep boarding numbers. Parents report that staff have adapted quickly to the needs of younger girls, but more boarders are needed to reduce the age range in dorms. As there are fairly few of this age group, weekend activities are tailor-made, though small numbers must limit variety. Mobile phone use is rationed and 'prep plus' activities for junior girls are on the up.

Accommodation is simple, modern and not unnaturally tidy, with two senior (13-16) houses and a very friendly well organised sixth form centre over the road via a pedestrian bridge. Complete refurbishment of boarding is still in progress; study bedrooms are comfortably spacious with plenty of storage and common areas. Parents commented on a lot of changes, probably referring to the recent restructuring of the separate prep boarding to be part of junior house.

Shared dining hall adjoins junior and senior houses. Sixth form house has its own dining room, kitchen, study areas, often with staff at hand, careers advice and leisure space with a proper Café Aroma serving the obligatory coffee shop range of expresso etc. Health provision is supervised by the indomitable Sister Gill, who creates an aura of calm, unfussy friendliness much appreciated by all.
Background and atmosphere
Unusually for a girls' school Godolphin has a long history, dating from a bequest made in 1726 by Elizabeth Godolphin, eventually resulting in the establishment in the cathedral close of a school for 'eight orphaned gentlewomen' who followed a remarkably enlightened curriculum for their day. It moved to its present 16 acre site in Milford Hill in 1891, retaining its links with the cathedral, with the bishop and chapter still represented on the governing body. Skilful use of space and the site still has a gracious feel, generated by the mellow red brick of the original building and the lovely open grass pitches with views of the downs enhanced by banks of lavender at the time of our visit. One has to look quite hard to find the few scruffy corners that Mrs Hattersley is determined to clear. The huge gothic school hall has the dusty feel (it certainly isn't, as the school is exceptionally clean and fresh) which old wood, high ceilings and portraits of ex-heads inevitably evoke. Road access is made awkward by several right-angled bends in the road, but efficient planning of parking helps, though parents report it can still be a bit of a maelstrom at pick up time.

Uniform is unremarkable: pale blue shirt, plaid skirt and navy blazer enhanced by stylish boater with crested red ribbons, known as a 'board'. All, however, is concealed by coverall old fashioned pinafores in royal blue for seniors (except sixth who wear own clothes, plus suits for going to the cathedral), red for preps and gingham for nursery. Oddly, girls seem to like this antiquated touch, while one parent attributed the school's exceptionally friendly and unthreatening atmosphere to the fact that no ultra-trendy girl would be seen dead wearing one. This is certainly a school where those who have been bullied elsewhere find general acceptance and support. An exceptionally happy place with few exclusive 'in groups', where the occasional 'falling out' is sympathetically dealt with by friendly staff, evidently liked and trusted by pupils. With its historic cathedral links, this is an overtly Christian school with a chaplain, using the cathedral for services and confirmation, though one parent regretted that it had to be on a Thursday to ensure parent availability.

Prep school feels quite separate from the main site; older pupils, however, appear very much at home in the senior school buildings, especially as the boarding now overlaps in Walters House, which takes 7-13 year olds. Girls play happily in the small outside playground to the front of the school which features the 'friendship bench'. Anyone sitting there is immediately given care and encouragement by other pupils under the wary eye of Miss Miller, whose room overlooks the playground. The nursery has the lion's share of the grounds at the rear with plenty of safely enclosed spaces. The prep has a lovely light atmosphere enhanced by good use of colour and a spacious feel. Not a revolutionary design, but everything done with children in mind, like the whiteboards that pull down to eye level for the youngest children.

Eagle-eyed staff ensure that everyone chooses sensibly at lunchtimes, when girls walk up to senior dining room. Girls may arrive for breakfast at 7:30am and stay on for prep until 5:40pm. School uniform mirrors senior school kit, with red pinnies (worn over full school uniform), straw boaters (known as boards) and blazers. The nursery children look enchanting in their gingham version of the 'pinny'. Student food council meets once every half term to provide direct feedback to school chef, whilst year 6 leads school council and year 5 selects school charities. Friday assemblies (musicians and public speakers have informal opportunities to perform here) close the school week and parents are welcome. Miss Miller has recently introduced a prep version of the Elizabeth Godolphin Award, which means that prep girls take a pride in their self-development in readiness for transfer to the senior school, and the school has a record of the success in their personal education.
Pastoral care, well-being and discipline
Pastoral care is delivered to day girls - known as 'Sarums' - and boarders together through the residential houses, which all have provision for day girls and welcome them to work and relax with the boarders. Lessons end at 4pm, but the myriad of school activities and prep run in three sessions after tea. School houses involve all ages from nursery to sixth form for competitions, fundraising and social events. Personal development is delivered in the PERSIL programme (another quirky Godolphin acronym representing Personal, Ethical, Religious and Social Issues in Life). In the sixth form the Elizabeth Godolphin Award encourages activities aimed at preparation for life after school. Truly all-embracing, it includes Prue Leith cookery (expensive), banking and finance, with car maintenance, emotional literacy, women's boot camp and dawn visits to Stonehenge all part of the bigger picture.

The older girls gave the impression that life is fun in the prep school, and the interaction between staff and pupils indicated a real kindness and affection. Gentle and girly though its pupils may look, the priority undoubtedly is education, and parents report that children gain in confidence. Its close proximity to the senior school gives it some outstanding facilities, but none the less this feels and behaves like an autonomous friendly community.

Firm, friendly, no-nonsense discipline leads to an atmosphere in which girls and teachers are at home with each other. The best is expected of everyone. Rules are few but clearly stated, and parents say problems such as drugs, smoking or alcohol are 'simply not part of the culture'. Girls rarely abuse the freedom they have to go into Salisbury attend socials with other schools, or entertain guests in the sixth form. 'Staff seem to care as much as I do', one parent commented
Pupils and parents
Mostly middle class with a total of about 14 per cent international students, mainly from the Far East. Not a 'toff' school, though pupils are not averse to joining up with Eton and Winchester for social events. Huge day catchment area has bus routes (some shared with Leaden Hall School) from every direction. In an area with ambitious state schools, art and music still attract pupils, as does the excellent pastoral care. Parents are pleased at how open pupils seem, speaking easily to adults and confident in public, but also that younger ones still behave like children.

Past pupils (with houses named after them) include the full spectrum of women writers, Jilly Cooper, Minette Walters and Dorothy Sayers as well as prolific novelist Amanda Brookfield. TV personalities include Dragon's Den businesswoman Deborah Meaden, Katie Knapman of Countryfile, presenters Helen Bishop and Louise Beale, sportswoman Ruby Smith, yachtswomen Hannah White and Nicola Rodriguez as well actress Charlotte Longfield.
Entrance
Entry to prep at all stages following an assessment day in the school and satisfactory report from current school head. At 11+, 12+, 13+ and sixth form. Registered 11+ pupils invited for a preview day and night in the autumn term, before taking entrance exams in the spring term. Uses its own 11+ entrance test – maths, English and verbal reasoning, plus interview and team building exercises. Now organises 13+ assessments 18 months prior to entry.
Exit
Vast majority choose to remain at Godolphin for senior school but can also be prepared for CE. Good record of academic scholarships - some gain music and sporting awards too. Some to popular state secondary South Wilts Grammar School (prep runs 11+ practice sessions for girls' grammar entry) and St Edmund's.

Around 30 per cent leave after GCSE, to local state schools and sixth form colleges. Most sixth formers go on to higher education, plenty art related, and a good proportion of Russell Group universities. Two to Oxbridge in 2016; lots of bright hopes for the future.
Money matters
Scholarships at 11+ and 13+ for outstanding merit or promise in academic work, music, sport or art. Awards are worth 15 per cent of boarding or day fees. In sixth form, scholarships awarded for all of the above plus drama. Additional bursaries may be awarded to scholars in case of financial hardship. Six Foundation Bursaries (worth 70 per cent) are offered to orphans in need of financial support, when one parent has died or whose parents are separated or divorced. An Old Godolphin Association Bursary (25 per cent) is occasionally available to the daughter or granddaughter of a former pupil at the school. Entrance bursaries are available to all eligible candidates (including at 14+) in order of registration – so it may pay to get in early.
Our view
It seems an idyllic school, almost too good to be true, and there is no doubt that it offers the very best of single sex education. For all its gentleness and Railway Children look, teaching is tip-top, especially now a real effort has gone into IT. Art and music are about as good as you can get and drama and games exceptional for a small school. Girls can really be themselves and the eccentric and the sociable are equally accepted. A very special place to grow up in.
Special Education Needs
We provide specialist individual support in English, maths and English language (for a few overseas students) as well as general study skills. Relatively few pupils require SEN provision but care is taken to provide individual help and support as and when required.
| Condition | Provision for in school |
| --- | --- |
| | |
| ASD - Autistic Spectrum Disorder | |
| Aspergers | |
| Aspergers Syndrome [archived] | |
| Attention Deficit Hyperactivity Disorders | |
| Attention Deficit Hyperactivity Disorders [archived] | |
| CReSTeD registered for Dyslexia | |
| Delicate Medical Problems [archived] | |
| Dyscalculia | |
| Dysgraphia | |
| Dyslexia | Y |
| Dyspraxia | |
| English as an additional language (EAL) | Y |
| Epilepsy [archived] | |
| Genetic | |
| Has an entry in the Autism Services Directory | |
| Has SEN unit or class | |
| HI - Hearing Impairment | |
| Hospital School | |
| Mental health | |
| MLD - Moderate Learning Difficulty | |
| MSI - Multi-Sensory Impairment | |
| Natspec Specialist Colleges | |
| Not Applicable | |
| OTH - Other Difficulty/Disability | |
| Other SpLD - Specific Learning Difficulty | |
| PD - Physical Disability | |
| PMLD - Profound and Multiple Learning Difficulty | |
| SEMH - Social, Emotional and Mental Health | |
| SLCN - Speech, Language and Communication | |
| SLD - Severe Learning Difficulty | |
| Special facilities for Visually Impaired | |
| SpLD - Specific Learning Difficulty | |
| VI - Visual Impairment | |
---
Newsletter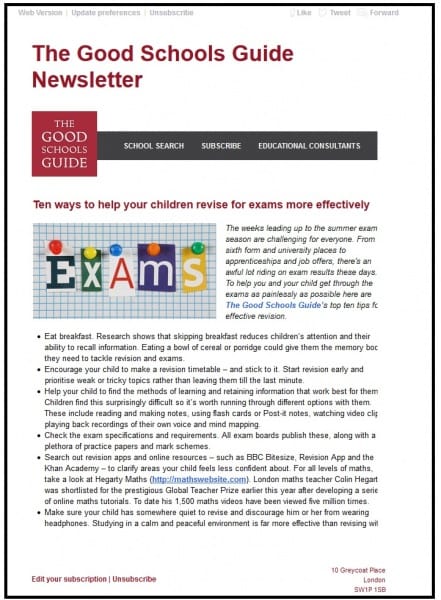 Educational insight in your inbox. Sign up for our popular newsletters.
---