A21KK36
Caterham School


Harestone Valley Road


Caterham




Surrey




CR3 6YA



Head: Mr Ceri Jones
T

01883 343028

F 01883 347795

A mainstream independent school for pupils aged from 3 to 18

Boarding: Yes
Local authority: Surrey
Pupils: 1166
Religion: United Reformed Church
Fees: Day £5,454 - £17,478; Boarding £31,185 - £32,613 pa
Open days: September with visitor afternoons throughout the year.
ISI report: View the ISI report
Linked schools: Caterham Preparatory School
What
The Good Schools Guide

says..

All the facilities, resources, bells and whistles you would expect for the money. Oozes prestige. Not the place for a slacker – one mother felt strongly it was all work and no (or not enough) play. First class teaching team works hard to engender a passion for learning. Parents describe it as dynamic, dedicated and (again) youthful. Lessons are enjoyable and lively, not all chalk and talk. Great head of science, wearing a bright pink overall when we saw him, and pupil guides proudly announced he had...
What the school says...
Our mission statement at Caterham School is 'to provide an education for life in a Christian environment as the finest co-educational school in the country' and we feel ourselves to be firmly on the path to achieving that aim. Excellent A-Level results have positioned us as one of the top co-educational independent schools in the UK. All students progress to university with 85% going to one in the 'top tier'. Caterham School is, however, about much more than just academic excellence. We strive to develop the pupil as a whole person thereby helping to prepare them for life at university and beyond. ...Read more
What the parents say...
No comments received for Caterham School
Please login to post a comment.
Thank the school
Parents and pupils often have cause to acknowledge the help and support they have received from their schools, for example in helping in the choice of further education or careers. "Say thank you" allows you to send a quick note of appreciation to the school in general or to an individual teacher.
---
This is a thank you to your school, teacher or careers adviser who helped you to get where you are now.
Please fill in the fields below, which we will transform into a letter of thanks from you to them.
2015 Good Schools Guide Awards
Excellent performance by Boys taking Latin at an English Independent School (GCE A level)
What The Good Schools Guide says
Headmaster
Since September 2015, Mr Ceri Jones, previously second master at Tonbridge School. Read history at Fitzwilliam College Cambridge and an MEd in educational leadership. He is a former head of history at Caterham and returned after 10 years at Tonbridge. In 2012, in collaboration with The Sutton Trust, Fitzwilliam College and a number of Kent independent schools, he launched an access programme for disadvantaged but academically bright year 9 students at state comprehensives in Kent. In 2013 he was seconded as executive principal to the Marsh Academy in New Romney, which is a state school that Tonbridge School co-sponsors. He is married to Kay Moxon and they have two daughters.

Prep school head since 2005, Mr Howard Tuckett MA (Ed) HDE (50s). Born in Epping, but educated in South Africa where he began his career in various prep schools, arriving back in the UK, via a stint in Botswana, in 1995 as deputy head at Kings Hawford Prep School in Worcester. Then headmaster at St Joseph's College Prep School in Ipswich for five years before coming to Caterham. Not the obvious oppo to Julian Thomas (head of Caterham snr school), but in fact they share an educational philosophy and get on well. 'Nice', 'approachable' and 'a lovely man,' say parents, who feel the school has improved since his arrival. Popular with the children, to whom he appears something of a gentle giant. Self-deprecating and not afraid to muck in (was off to the pool with one class after our visit), fits in some teaching, mainly history, where he is said to do 'hilarious impressions of Winston Churchill' and Latin – 'I'm a page ahead of them', he jokes. Married with two children, keen on fishing and gardening, plays guitar and is involved with the church.
Academic matters
Lessons are pacey in the prep; a broad curriculum with plenty of cross-curricular activity. Interactive whiteboards in every room. Strong emphasis on children being heard to read, not just while they are learning, but right up to age 11. 'The school really makes time for everyone,' said one mother. Subject teaching by year 4. Mr Tuckett pleased that he has flexibility here, nothing set in stone, so he may have one year working in three sets and another in four, depending on the particular need. 'Nothing is hide-bound,' he says. 'We don't expect the cohort to adapt to fit our system - we will do what is best for them.' School aims to teach children 'to create their own success', in acknowledgement of the fact that they may grow up to work in industries that don't exist yet.

Now among the UK's top independent schools, outperforming many of its more famous rivals, yet strangely still just under the radar. At GCSE in 2016, nearly 79 per cent A*/A. At A level, one of the top 50 independent schools in the country - 85 per cent A*-B and 57 per cent A*/A.

Maths and science are stand out subjects here (triple science the norm). The biology and physics departments have received a several GSG awards for A level results over the past few years. French, German, Spanish, Latin and Greek offered to GCSE and A level. The school has introduced iPads so that, eventually, each pupil will have their own mobile device. There are 800 computers throughout the school, all networked and with email and internet access.

However, school quick to stress that academic success must not be the pupils' only achievement – watchwords are 'An education for life'. Parents agree that the school gets the best out of all the children – not just the super-academic. Also on the curriculum are study skills such as speed-reading, research techniques, typing, all designed to give students the edge out in the real world. The first independent school to be awarded Thinking School status by Dr Edward de Bono – too detailed to explain here, but it involves planning thinking processes using coloured hats. Children we met understood it perfectly; school offers courses to enlighten confused parents. No plans to introduce IB, but IGCSE offered in English, maths, sciences.

First class teaching team works hard to engender a passion for learning. Parents describe it as dynamic, dedicated and (again) youthful. Lessons are enjoyable and lively, not all chalk and talk. Great head of science, wearing a bright pink overall when we saw him, and pupil guides proudly announced he had new labs designed to his specification. Lots of ongoing staff training and opportunities mean turnover is low. Class sizes in first three years average 20-24, dropping to 15-20 for GCSE teaching and usually eight to 12 for sixth form. All the facilities, resources, bells and whistles you would expect for the money. Oozes prestige.

Not huge call for SEN provision (a handful) but around 90 pupils have learning difficulties and disabilities. A TA for the visually impaired and some one-to-one teaching. A dyslexia specialist is available. Inclusive system of study buddies sees older students passing on their experience to the younger years – anything from straightforward subject help to other issues like time-management. Eighty or so pupils receive EAL support.
Games, options, the arts
All strong, in keeping with school's aims to develop all-rounders. Sparkling achievements on the sports field are just as impressive as the academic results. Priority sports are rugby, hockey, cricket, lacrosse and netball, with many teams winning regional awards, but lots of others on offer, from athletics to taekwondo. Sport is taken seriously but not just for the elite – everyone encouraged to have a go. Prep just as sporty as you would expect – again good preparation for the active senior school – but don't be concerned if your child is usually a less than keen participant. 'There is no such thing as a non-sporty child,' asserts Mr Tuckett, confident he can enthuse anybody. 'They just need to be taught properly.' So children see a lot of the great outdoors - plenty of space and facilities here – and everyone will get match practice: they'll put up a D team if necessary. Such endeavours paying off now, with particular success in football and netball; lacrosse popular too.

Drama has a fairly high profile and is improving. Impressive performance space but no dedicated studio. Music next on list for development. Years 3 and 4 learn the recorder and years 5 and 6 take up guitar – their first lesson is usually Deep Purple's Smoke on the Water, which sorts them out. Up to 30 per cent of senior pupils currently learn a musical instrument (exams can be taken) and plenty of opportunities to perform. But although lots get involved in high standard school and house productions and concerts, only handfuls take music and drama at GCSE and A level. Better take-up of art and design, with pottery, textiles and photography offered.

Both the Duke of Edinburgh Award Scheme and the Combined Cadet Force are thriving – pupils regularly win armed forces scholarships. All told, around 35 clubs and societies, from chess to debating, kit car challenge popular. 'Put us up against any school and we'd win for sheer range of activities on offer.'
Boarders
Boarding facilities recently upgraded. Years 7-9 in good sized, four-bed rooms, thinning out as they rise through the ranks to qualify for single, ensuite accommodation by upper sixth. Ofsted pronounced the boarding offering as 'outstanding' – in fact some university halls may be a come-down. Homely atmosphere - lots of staff live in and build up good relationships with their charges. Growing requirement for flexi-boarding acknowledged and accommodated wherever possible. More space now for rising numbers of weekly boarders. Boarders (100 boys, 64 girls and around a fifth overseas) do really well here where their life is fun, but well-structured. Prep every night under controlled conditions and then checked – boarders get great results. Staff delighted as TVs and computer games gather dust – too much else on offer: loads of sport and special events.
Background and atmosphere
Situated in 200 acres of loveliness in a wooded valley of the North Downs, south of London, just inside the M25. Approach is via a quiet residential road of substantial houses. Main school building is an attractive, Victorian, red-brick building looking out onto its own impressive playing fields, hills beyond. Inside a preponderance of tiling and brick – looks nicer than that might sound. Modern science block and sixth from centre.

Located along the valley past the main school, the prep and pre-prep buildings nestle in sweet seclusion in a natural dead end, making for a peaceful and completely traffic free zone. Share many of the main school's top notch facilities, although prep's own buildings are two former mansion houses, so not so modern and sparkling as others you may see. New woodland outdoor learning centre shared with senior school.

Not the place for a slacker – one mother felt strongly it was all work and no (or not enough) play. Although a two-hour lunch break, it can be fairly chocka with music and games practice and other clubs and activities. Certainly not surprising if pupils have to up their game as popularity of senior school increases. Around 20 children in each class – air of industry around the place as purposeful children get stuck into all on offer. School encourages everyone to get involved with everything. Uniform reflects the active buzz of this place, including sensible and smart anoraks for the outdoor stuff.

All the senior pupils smartly turned out, business suits for sixth formers. A happy, vibrant place, where students are enjoying, rather than enduring, their days. Nice easy atmosphere – always visitors around, parents welcome, teachers used to having their classroom doors opened mid-lesson.
Pastoral care, well-being and discipline
Standards of behaviour are high ('exemplary,' says ISI) and pastoral care is top-notch, based on the principle of mutual respect. Any problems dealt with quick time and would never punish a significant misdemeanour without getting to the root cause – a holistic approach. School conscious that young people get a maelstrom of mixed messages in today's media and can get caught up in a 'cool to be cruel' culture. School sees itself as the counterbalance to that - 'we want to show the pupils that kindness and courtesy matter'. Staff set the tone, aiming to turn out 'nice people that parents and school can be proud of'. Need we add zero-tolerance of bullying, drugs and drink – all non-starters? Minor demeanours dealt with by way of warnings and gating – practical things like litter duty, rising to detention. Suspension and expulsion obviously the end game – but both are rare events. Pupils generally have good relationships with teachers and other staff. School linked to URC, but it's a light touch, no Christian exertion, all welcome.
Pupils and parents
As in the senior school, links between parents and prep school are strong and communications friendly and informative. Lots of opportunities to help, from thriving PTA to running the library. 'I sometimes joke that I've given up my life to this school,' said one busy mother, who evidently wouldn't have it any other way. A boon to working parents is the after-school care – available up until 6pm and including a supervised homework session.

Parents are really supportive of this place – it's not unusual for 500 spectators to support Saturday fixtures. Largely a local school – 70 per cent travel less than five miles to school - but other day pupils from up to 30 miles away (plenty of school buses and good transport links with mainline BR just a 15 minute walk). Boarders from 25 different countries, including UK, but significant numbers from East Asia and Eastern European countries.

Parents from a wide mix of professions and businesses. Successful and productive parents' association has a good time raising significant sums for the school. Old Cats (boys so far, as school only fully co-ed since 1995) include Geraint Jones (organist, conductor); Angus Deayton (television presenter); Sir Alan Moncrieff (first Nuffield professor of child health); Sir Arthur James (Court of Appeal) and recently cricketers Ali Brown, David Sales and James Benning. Old Cats a big feature – turn up at all the events, plays, fixtures, magazine launches, giving the current pupils a real sense of their school's history and traditions.
Entrance
First come, first served at junior level - most pupils join in nursery or reception classes in the order in which they applied, with no formal entry requirements, other than an informal assessment to exclude those with any significant learning or behavioural difficulties. Both nursery and reception are oversubscribed, nursery typically 60 applications for 20 places, then another 20 join at reception (taken from the nursery waiting list). Entry at other years - up until 11+ as the occasional space comes up. At this stage applicants will be assessed during a full day spent as part of a class at the school.

Senior school academically selective, mainly at 11, 13 and 16. Own exam used (English, maths and verbal and numerical reasoning) plus interview and report from current school (common entrance for setting at age 13). For sixth form entry, six GCSEs at grade A (grade B for existing pupils moving up).

No special skills or religious requirements; school has URC affiliation but pupils of many faiths within it. Thirty per cent of intake from state schools (plus 10 per cent to sixth form).

School's main feeder is Caterham Preparatory School, which provides around 40 pupils in year 7. Others are The Hawthorns, Hazelwood, Oakhyrst Grange, St Mary's C of E Junior School, Sevenoaks Preparatory School, New Beacon School and Copthorne School.
Exit
Vast majority of juniors to senior school. Plenty of warning for anyone not expected to make the grade, although apparently 'not many'. However, as senior school gets increasingly popular and academic, it may become more of a struggle for some to make the transition than in the past. Others to eg Woldingham, Lingfield, Notre Dame, Millfield.

Around 10 per cent leave after GCSE, generally because eg drama or art specialists, or for financial reasons. All sixth form leavers to university, 14 to Oxbridge in 2016, most of rest to other top tier destinations. Exeter, Southampton, Birmingham, York and Bath.
Money matters
About a third of pupils receive either scholarships or bursaries. Scholarships and exhibitions awarded at 11 and 13 (academic, art, music, performing arts, sports and all-rounder). At 16 academic, art, music, sport, science and drama are available. Most represent 25 per cent of fees with academic scholarships of up to 50 per cent. Boarding/international scholarships are also available. All 11+ and 13+ day pupil candidates are automatically considered for academic scholarships, but specific application forms are required for other scholarships. The number offered varies each year, but essentially funds are available equivalent to 10 school places.

School also has a bursaries scheme for children of United Reformed Church clergy, for families in the Forces or those on a low income. There is a new, fully funded sixth form bursary named in honour of slavery abolitionist William Wilberforce, who was a friend of the school's founder and a subscriber to the school, giving Caterham 10 guineas a year.
Our view
A classic independent school - great results, large, leafy grounds, good facilities, strict discipline, polite, charming and well-informed pupils. You can see what you are paying for here. It's on the up and pulling ahead of the pack now.
Special Education Needs
Caterham School is a high achieving, academic school from which most pupils go on to the universities of their first choice. Pupils with mild Specific Learning Difficulties are catered for individually by qualified specialist staff. The SEN provision we provide depends on a pupil's Specific Learning Difficulty having been formally diagnosed; it ranges from 1:1 support to group support within the classroom. All subject staff are kept informed and up to date with effective learning and teaching strategies and are skilled at coping with pupils with Specific Learning Difficulties. Nov 09.
| Condition | Provision for in school |
| --- | --- |
| ASD - Autistic Spectrum Disorder | Y |
| Aspergers | Y |
| Attention Deficit Hyperactivity Disorders | Y |
| CReSTeD registered for Dyslexia | |
| Dyscalculia | |
| Dysgraphia | |
| Dyslexia | |
| Dyspraxia | |
| English as an additional language (EAL) | |
| Genetic | |
| Has an entry in the Autism Services Directory | |
| Has SEN unit or class | Y |
| HI - Hearing Impairment | |
| Hospital School | |
| Mental health | |
| MLD - Moderate Learning Difficulty | |
| MSI - Multi-Sensory Impairment | |
| Natspec Specialist Colleges | |
| Not Applicable | |
| OTH - Other Difficulty/Disability | |
| Other SpLD - Specific Learning Difficulty | |
| PD - Physical Disability | |
| PMLD - Profound and Multiple Learning Difficulty | |
| SEMH - Social, Emotional and Mental Health | |
| SLCN - Speech, Language and Communication | |
| SLD - Severe Learning Difficulty | |
| Special facilities for Visually Impaired | |
| SpLD - Specific Learning Difficulty | |
| VI - Visual Impairment | |
---
Newsletter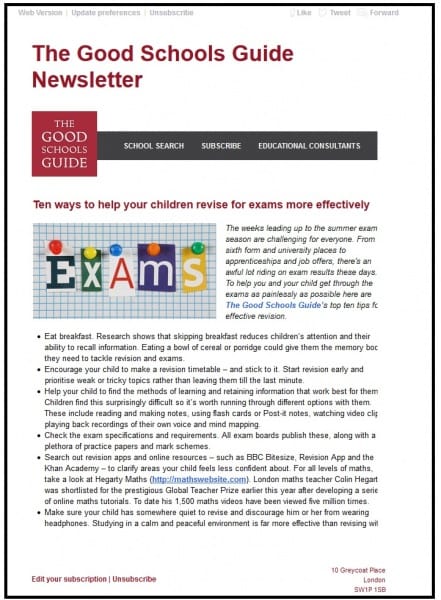 Educational insight in your inbox. Sign up for our popular newsletters.
Best practice - our expert tips to help your child with exam revision
---