F7538B0
The King's School in Macclesfield

A GSG School
The King's School in Macclesfield


Cumberland Street


Macclesfield




Cheshire




SK10 1DA



Head: Dr Simon Hyde
T

01625 260000

F 01625 260022

A mainstream independent school for pupils aged from 11 to 18

Boarding: No
Local authority:

Cheshire East

Pupils: 892
Religion: Church of England
Fees: £12,225 pa
Open days: October, January and April plus weekly tours all year round
ISI report: View the ISI report
Linked schools: King's Infants and Juniors (Macclesfield)
What
The Good Schools Guide

says..

Diamond structure – co ed infant and junior school, single sex years 7-11, co ed sixth...Praise for teachers from a disconcertingly poised and articulate, very new year 7 boy – 'They're fun and good at what they do'... Dr Hyde should be happy, as almost all the pupils do look very smart – indeed we wondered whether one very elegantly turned out sixth former in suit with waistcoat was a member of staff (but were relieved to see at least one boy with a tie veering towards half mast)...
What the school says...
The Kings School in Macclesfield is not an 'either/or' school - either great academic results or superb extra curricular opportunities its a 'both, and' school. From the ages of 3 to 18 in our Infant & Junior Division, the single sex Boys and Girls divisions and then again in our coeducational sixth form, Kings offers every child both the strongest possible academic education and amazing opportunities outside the classroom.

Our results are outstanding. Add the string of international sportsmen and women Kings regularly produces, the eclectic range of musicians, artists and inventors, the 50 clubs and societies Kings provides for all ages and the fact that our explorers have the opportunity to venture right across the globe - now you dont just have a school, you have the start of an amazing life long journey. ...Read more
Thank the school
Parents and pupils often have cause to acknowledge the help and support they have received from their schools, for example in helping in the choice of further education or careers. "Say thank you" allows you to send a quick note of appreciation to the school in general or to an individual teacher.
---
This is a thank you to your school, teacher or careers adviser who helped you to get where you are now.
Please fill in the fields below, which we will transform into a letter of thanks from you to them.
2015 Good Schools Guide Awards
Best performance by Boys taking Geology at an English Independent School (GCE AS level)
What The Good Schools Guide says
Headmaster
Since 2011, Dr Simon Hyde MA DPhil (late 40s). Born in Macclesfield and an old boy, degree in modern history at Oxford, doctorate there and at the University of Bonn plus a bit of teaching, history master at Loughborough Grammar for three years, swift ascent to senior teacher and head of humanities at Oakham, deputy head at Haberdashers' Aske's Boys, Herts, for seven years, where he was responsible for school development and strategic planning.

Approachable, balanced, financially shrewd, good sense of humour, ambitious in a realistic way for the school, appreciative of staff. High approval rating from all the parents we spoke to, who praised his communication skills – 'a breath of fresh air', 'very impressive and dedicated', 'terrific...not a strutter...makes the parents chuckle in the first five minutes'. Has seized the opportunity to make a number of new senior appointments (enjoys full backing of governors) – young energetic types: previous deputy head (who, sadly, died in Dr Hyde's first year) replaced by two, one for academics, the other i/c development – 'to take a long view'; overall director of sport; head of IT (much to do here). In his first year taught a year 10 history and lower sixth politics group to establish his teaching credentials to staff and pupils – clearly loves teaching.

Very keen for school to be centred in the local community – working with council to support its regeneration plans, encourages sixth form outreach work with feeder primaries and community use of facilities. Wants to acquire funds to invest in infrastructure improvements (new Astro and sports centre, better IT) and extend bursaries, and to raise academic expectations (without losing any of the fantastic extracurricular opportunities). Would like the pupils to 'look smart and have fun'.

Judges national and international debating competitions (ran the regional ESU Mace and judges at world schools comps). Interested in German culture and likes reading historical and detective fiction (the classy Swedish kind, Henning Mankell's Wallender series, so definitely on the side of the angels).

Junior school head since 2009, Mrs Caroline Hulme-Mckibbin BEd (early 40s), educated at Altrincham Girls' Grammar and Homerton College, Cambridge. Taught in state primaries in Trafford then at King's Junior when co education introduced; became academic head. After a career break to have family returned in 2003 as vice principal; 2005 head of Alderley Edge School for Girls' junior section. Friendly and easy to talk to, teaches RS, art, PSHE and ICT to various years and runs philosophy club, about which she is 'passionate'. Husband a business consultant, two girls of 13 and 15 at Altrincham Girls' Grammar. Interests include netball umpiring, theatre, reading. Wants children to believe they can do 'anything they set their minds to', and to think flexibly.
Academic matters
Diamond structure – co-ed infant and junior school, single sex years 7-11, co-ed sixth. Achieves well above national average in reading, writing and maths at key stages 1 and 2 (covers national curriculum with extras); sets for maths all years; more specialist teaching in juniors – French, music and and sport; homework from year 3. Infants do EYFS curriculum plus French and music – all achieve expected level for age and many achieve higher. Emphasis on developing learning and independent thinking skills. No noticeable gender gap, though girls tend to do better at writing, boys at maths – lots of extra reading and writing activities for boys to develop skills, more boys at level 6 in literacy recently. Max class size 20-24 – may split into smaller groups for focus work. Happy, lively children wearing version of senior school uniform.

Very consistent at A level – 2016: 78 per cent A*-B, 51 per cent A*/A. Wide range of academic subjects (no IB nor vocational options) including economics, business studies, government and politics, geology, psychology, philosophy, sport and PE, computing as well as IT, Latin and classical civilisation (small but steady numbers). History and psychology very popular, then biology, economics, maths, chemistry; no drama, but can do theatre studies in year 13 extended studies programme, which allows a fifth AS in, eg, critical thinking, or LAMDA, public speaking, Japanese, sports leadership qual; all complete ECDL then too. Max class size 15, but year 13 sets can be as small as five. Much proficient use of electronic whiteboards throughout, but we enjoyed the English language class demonstrating that low tech skilful questioning can also engage students successfully.

GCSE very consistent too – 2016: 59 per cent A*/A; all do at least nine, with a modern lang (Spanish most popular); can do separate sciences; options include drama, religion & philosophy (excellent results); all work on ECDL. Gender divide closing here (but not at A level).

Very broad curriculum in year 7 – 17 subjects, including three modern langs (French, German, Spanish – several native speakers on staff), choose two in year 8, two or three in year 9; setting in maths from year 7; max class size 25; children encouraged to go beyond homework. Separate sciences in year 9 and have to choose two from art, music, technology and drama. Praise for teachers from a disconcertingly poised and articulate, very new year 7 boy – 'They're fun and good at what they do'; 'They're firm but help you understand,' added a voice from year 9; 'You're encouraged to learn independently, not just rely on the teacher,' from a year 13. According to parents, the teachers know their pupils well as individuals, expect them to work hard, do the best they can, but recognise not all will excel. Various kinds of commendations for especially good work or effort – certificates, letters and postcards to parents, assembly presentations. Several computer suites, huge language lab in girls' division with masses of PCs.

All departments impressively active outside the classroom – workshops, trips, lecture visits, science shows, exchanges; success in a wide range of external competitions; psychology department has 'adopted' a female Bonobo at Twycross Zoo. Lively English – strong creative writing, eg slam poetry workshop, literature quizzes, play trips, videoed performances of book reviews for World Book Day by year 7-9 classes, participation in BBC News School Report Day; trip to BBC at Salford for boys to work with film-making equipment.

Scholars have extensive enrichment programme – eg extra modern language in year 9 or Latin; some activities run by sixth formers, who create and deliver workshops at feeder junior schools; residentials on very stimulating topics going well beyond the curriculum for years 8-11.

SENCo confident school can accommodate mild versions of dys-strata, Asperger's, ADD/ADHD, visual and hearing impaired plus physical disability (but boys would find the last more problematic, owing to the geography of their part of the site). She is a qualified dyslexia and literacy specialist, with two p/t dyslexia specialists and TAs for class support, in and outside class. Extra charge for individual dyslexia session (pairs possible); all departments have a member of staff who links with learning support department. Infant and junior division learning support co-ordinators overseen by foundation head of learning support. All year 7s and later entries screened for dyslexia. Well resourced generally – school 'happy to provide what's needed'. Homework club at lunchtime provides refuge for less secure pupils.
Games, options, the arts
Very strong sports – 25 acres of playing fields (main ones for matches, Derby Fields, one mile away); Astros with floodlighting; four new netball courts for girls; boys' and girls' divisions have large gyms but no modern sports; hall (yet). Wide range – the usuals plus golf, sailing, orienteering, fencing, skiing: caters for the keen and those who just want enjoyment. Very successful rugby (boys and girls), hockey, trampolining, netball and cheerleading: witness a cabinet crammed with elaborate, glittering red, blue and silver trophies (no English modesty here) – a shelf literally collapsed beneath their weight; riding, swimming (despite having to use the town's leisure centre). A 2012 women's Team GB gymnast, two girl British biathlon champions; several pupils represent their county or region. Girls' and boys' sports facilities recently upgraded - include county-size Astro, half-size Astro, cricket nets and four tennis courts.

Music huge and very impressive – full and string orchestras, various bands, including jazz – Big Band highly regarded locally; various choirs; lots of concerts at school and in the community; participation in youth orchestras (Halle,Wigan jazz, Stockport symphony, guitar ensemble). Some in Cheshire and national youth choir; recent tour to Budapest. Wide range of music including film, blues and barbershop.

Unusually ambitious plays produced – Cyrano de Bergerac, Candide, The Rivals, Arturo Ui (a girl took lead role, another plays in first cricket team); biannual musical; art department creates excellent sets and props. Whole school productions plus separate boys' and girls' ones; years 8-10 panto. Years 5-6 production of Guys and Dolls (ambitious).

Tremendous multi media art (we saw more 3D than 2D), displayed throughout the school – we were struck by some interesting glass work (own kiln, gets remnants from local window company), very realistic cakes made of coloured felt on a stand and expressive year 8 ceramic masks. A level students have produced video and sound installation exam pieces. Annual residential in North Wales; 12 students selected for Cheshire GCSE gifted and talented residential. Busy DT – talks, trips, competitions, eg Lego League. Junior art and DT in darkish Portakabin (school says light on a sunny day).

Heaps of (mixed) societies and activities – D of E, sixth form community action, sound technology, arts and philosophy soc, European youth parliament, Amnesty International, debating, fair trade, Arabic. Junior clubs in school day run by teachers – eg puzzle,drama, construction. After-school sports practices run by staff plus some after-school clubs run by external agencies (with charge), eg golf, Spanish, drama. Vigorous financial arm – Young Enterprise, investors club – 30 teams across the three divisions competed in student challenge, sixth form economics department honoured by Bank of England for 10 years' outstanding contribution to their National Target 2.0 competition. Sixth form council; charities and social committee raises thousands of pounds; sixth formers help run clubs for younger pupils in senior and junior schools. Good careers programme – work experience week for all in year 10, more possible in sixth form, one full-time careers officer.

Fab trips – Cerne, skiing in Colorado (pricy), château study week in Normandy for sixth form linguists (tasty), also (mixed) chateau trip at end of year 7 (memorable); year 13s can do work experience in France with a company, returning just before their oral exam. Rugby tour to Canada, hockey to South Africa, history trip to China, diving in Egypt, World Challenge to India. Very testing outdoor activities trips – coasteering (involves jumping off cliffs into the sea – must be heart-stopping for parents), canoeing, surfing; mixed ages for these leading to friendships across years. The pupils we met all very appreciative of this wealth of opportunities – the only downside was finding enough time to fit in all they wanted to do.
Background and atmosphere
Founded by Sir John Percyvale, Lord Mayor of London, in 1502, as a grammar school. Moved to present site in 1854; in 1946 became independent fee-paying school. Girls were introduced into the sixth form in 1986 and in 1992 new girls' and (by now) co-ed junior divisions established in refurbished ex-Macclesfield High School in Fence Avenue, about a mile away, followed by infant department in 2007. Lovely views of the Peak District (but some drab corridors in the girls' section). C of E with ecumenical ethos.

The boys' and sixth form campus is very large, mostly pleasant red-brick or sandstone and harmonious modern additions around a central green fringed with trees. A bridge over a street leads to recent, £2.5 million sixth form block and practice pitches. Colourful, attractively cluttered Alan Cooper library with masses of magazines and DVDs as well as books, wooden beamed sixth form study area on upper floor, honours board for First World War war dead on wall, with an OB's medals beneath it. Separate junior library with lots of fiction. 'The school will get you any magazines, newspapers and books you need,' according to a sixth former. Sixth have common room, study area and café in own centre.

Separate girls' division (370 girls, three forms of 25 per year) and boys' (500 boys, four forms of 25) reduces gender stereotyping re subject choices – several boys choose art and girls maths and science at A level – and allows flexibility of teaching approaches; year 11 house captains and prefects allow more and earlier opportunities to develop leadership skills, eg mentoring younger pupils, supplemented by plenty of co-ed activities and trips.

Junior school has spacious, well-resourced classrooms with colourful displays throughout. Extensive grounds overlooking hills; uses main site facilities – assembly hall, IT suite, library. Outdoor classroom – a wildlife study area, the Gingko meadow. Charming play area for EYFS with little willow beehives (for children, not bees).

Academics well balanced by the extracurricular – head of boys' division observed that the introduction of music at start and end of assemblies encouraged respect for more than just sporting prowess: all achievements celebrated. School council meets every three weeks, issues frequent questionnaires to canvass views, proposals heeded. Parents and pupils feel it has a friendly atmosphere. Food praised for quality and choice (smart cards used); sixth allowed into town in lunch hour.

Almost all the pupils do look very smart – indeed we wondered whether one very elegantly turned out sixth former in suit with waistcoat was a member of staff (but were relieved to see at least one boy with a tie veering towards half mast).
Pastoral care, well-being and discipline
Older pupils do reading work with juniors, helps transition to senior school. Infants have playtime buddy system – year 2 helpers in red caps, plus 'buddy bench'. Year 6 taster day (our year 11 tour guides still remembered their fish, chips and chocolate cake lunch); year 7s said older pupils very helpful if you get lost; bonding form residential trip early in first term. Sixth formers train as peer supporters for years 7-9. We were assured bullying not a problem – the school would stop it immediately: 'It's something King's wouldn't tolerate because it just shouldn't happen'. Mixed age activities encourage general friendliness and there's 'always a teacher you can talk to about problems', as well as the nurse or heads of year. Sixth in tutor groups of 12; induction morning and welcome evening organised by year 13s for new year 12s.

We were pleased to see the 'every child matters' values displayed in the cheerful entrance hall – be healthy, make a positive contribution, enjoy and achieve, economic well-being, staying safe – especially now they have receded into the background at the Department for Education. Weekly award for children who have shown especially positive qualities in memory of former deputy head boy who died at 12 years.
Pupils and parents
Extensive catchment area, about 20 mile radius – lots of bus routes, 10 minute walk from train station to both sites. Three-quarters white British. Lively, confident, happy and energetic pupils. According to head of girls' division, 'Quirkiness and slight eccentricities are liked', girls of different types 'rub along well' – but they need to want to learn, to be happy.

From various backgrounds (majority professional, some farming families and a sizeable minority of blue-collar workers) – 'very rounded parents,' one told us; AstraZeneca based locally, also commuter belt for airline companies at Manchester Airport. Praise for speed of response to queries – 'totally fabulous lady in the office, who will put you in touch with everyone you need to communicate with'; 'Teachers get back to you soon if you phone'; email alerts, regular letters with email addresses of people to contact.
Entrance
Infants' (3-7 years) places offered by date of application (registration from birth). Juniors: full day at school in January – assessment in literacy, numeracy and VR in morning (looking for above average ability), afternoon activities with a regular class. Before this report on academic progress, interests and potential requested from current head. Numbers rise in years 3-6 – some influx from state schools, often in year 5. External candidates who join King's Juniors before or at the start of year 5 no longer need to sit the 11+ entrance exam for transfer to senior school; later joiners and outsiders take 11+ exam mid January – English, maths and VR; plus science and languages for year 9; the last minus VR for year 10 plus interview with child and parents. Belongs to Greater Manchester Consortium of schools, so follows its timetable for year 7 applicants (check deadline dates on website). Roughly 10-15 per cent entry to sixth from outside – need at least four As and two Bs at GCSE, plus interview (parents as well) and reference from current school.
Exit
Virtually all juniors to senior school – need to sit entrance exam; regularly win scholarships (strong music). Some preparation in year 6, but not 'slaves to the entrance exam' (hooray!)

Some 10-20 per cent leave post GCSE – mainly to take vocational courses at FE colleges; some may want a more relaxed, less structured atmosphere.

After A level students depart to a wide range of universities – Nottingham most popular, then Nottingham Trent, Manchester, Newcastle and Birmingham; six Oxbridge 2016 and five medics (current hopefuls praised help with preparation). Broad mix of subjects including biomedical sciences, veterinary sciences, geography and law.
Money matters
Means-tested bursaries – strong performance in entrance exam needed; scholarships for outstanding performance – worth £1200pa; two music scholarships awarded at time of entrance exam worth £600pa towards cost of musical tuition – need at least grade 3. Quincentenary bursaries for new sixth formers. Sibling discount.
Our view
Interesting marriage of traditional values – suggested by cabinets of silver cups, old whole school photos and honours boards in reception – with progressive educational approaches. Dedicated, astute heads augur well.
Special Education Needs
Please enter a general description of your SEN provision here.
| Condition | Provision for in school |
| --- | --- |
| | |
| ASD - Autistic Spectrum Disorder | |
| Aspergers | Y |
| Aspergers Syndrome [archived] | |
| Attention Deficit Hyperactivity Disorders | Y |
| Attention Deficit Hyperactivity Disorders [archived] | |
| CReSTeD registered for Dyslexia | |
| Delicate Medical Problems [archived] | |
| Dyscalculia | |
| Dysgraphia | |
| Dyslexia | |
| Dyspraxia | |
| English as an additional language (EAL) | |
| Epilepsy [archived] | |
| Genetic | |
| Has an entry in the Autism Services Directory | |
| Has SEN unit or class | |
| HI - Hearing Impairment | |
| Hospital School | |
| Mental health | |
| MLD - Moderate Learning Difficulty | |
| MSI - Multi-Sensory Impairment | |
| Natspec Specialist Colleges | |
| Not Applicable | |
| OTH - Other Difficulty/Disability | |
| Other SpLD - Specific Learning Difficulty | |
| PD - Physical Disability | |
| PMLD - Profound and Multiple Learning Difficulty | |
| SEMH - Social, Emotional and Mental Health | |
| SLCN - Speech, Language and Communication | |
| SLD - Severe Learning Difficulty | |
| Special facilities for Visually Impaired | |
| SpLD - Specific Learning Difficulty | |
| VI - Visual Impairment | |
---
Newsletter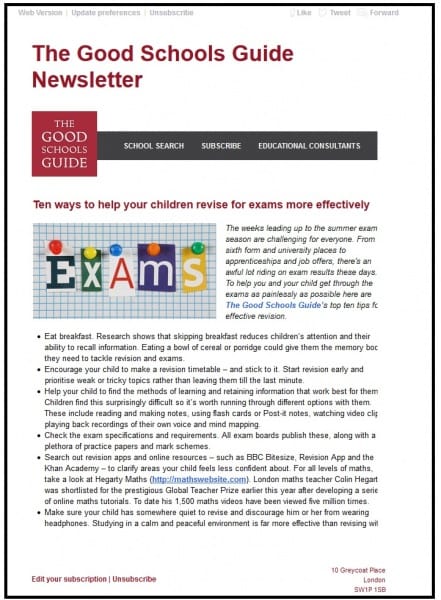 Educational insight in your inbox. Sign up for our popular newsletters.
---